December 24, 2011 on 12:36 pm | In
Holidays
,
Quilting
|
34 Comments
Ohmygosh!  It's pure crazy-ness here in ThimbleannaLand.  TheFirstChild and SweetiePie just left to go spend Christmas with her family and it's been a whirlwind while they were here.  A FUN, happy whirlwind.  We crammed their Christmas, baking, shopping, and the Gingerbread House Competition all into one day.  We were up until 4 a.m. this morning — now for a 10 minute breather to enjoy the traditional Christmas Eve breakfast:
'Tis the season and I loooooove Christmas cookies and Candy!  It was all going so well this week.  I thought I was on top of it — no sewing planned this year.  But it always happens.  A few extra minutes in the schedule and I start thinking.  And I can't help myself.  And when I saw THIS fantastic post, I knew the fish hook had pierced my lips and I was a goner.  I needed another little gift, so I used my extra time this week (and then some!) to make some potholders.
I do love me some grommets!  I wish I could have hand stitched these — that's what I love most about the original pillow inspiration.  But these potholders have that thermal insulation fabric in them and there's no way my little fingers could have handled that.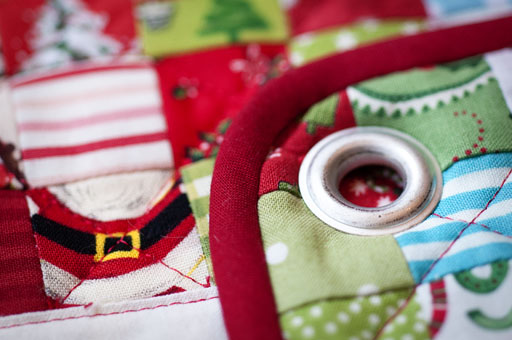 That Amy is a genius!  I haven't had time to read blogs this week, but when I was scrolling through her blog to find the post that matches these potholders, I saw some new stuff.  I can't wait to have time to catch up on all my reading.
DingDing! Time for round two. Must run again — full schedule ahead! I'm betting most of you are really busy too, but I just want to wish everyone a Very Merry Christmas. I hope Santa is Very Very good to you! See you on the other side!
XOXO,
Anna
34 Comments
Sorry, the comment form is closed at this time.
Thanks for stopping by!