January 13, 2012 on 1:56 pm | In
Sewing
|
46 Comments
Shoot!   I didn't mean to be gone so long, but it's been pretty boring around here.  It's been a long dull week — back to work after three happy holiday weeks isn't easy!  Plus, we've had something every night after work this week, so, just not much excitment — or sewing.
I did manage to finally line my laundry basket last weekend.  Mine isn't nearly as cute as the version I did for MyDadLovesMeBestSister, but it matches the other accessories in my laundry room, so I'm happy.
I used every last scrap of fabric that I had from the laundry lady fabric.  I was even short a bit, so I pieced it.  The jury is still out as to whether I'll put grommets in this liner.  I'm sort of wishing I'd done some sort of cute scallop along the bottom — I guess it's never too late.  But you know.  Lots of other projects are waiting in the wings.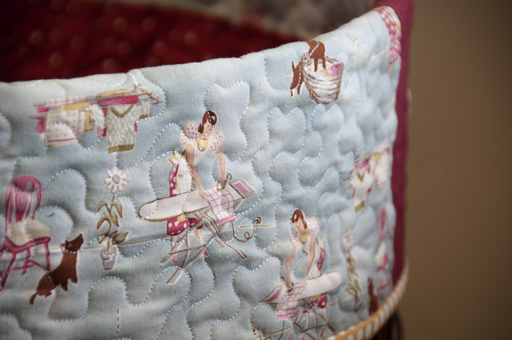 This seems to be the time of year when everyone starts new, exciting projects.  I'm dying to start some too, but I really want to dust off a few UFOs first, so I'll try and exercise some willpower.  This laundry basket has been on the list for a year.  Done.  I've also been plugging away at my long time applique project, so I'm hoping to actually finish it before too much longer.
See? Laundry Basket already pressed into service. Now, I'm off to cut out that Amy Butler corduroy fabric — it's a stormy snowy day so I'm going to hole-up in the dungeon. (If you peek at the Thimbleanna banner, you'll see that the Thimbles are ecstatic that we're finally getting a little snow!)
Have a good weekend!
XOXO,
Anna
46 Comments
Sorry, the comment form is closed at this time.
Thanks for stopping by!