February 7, 2012 on 11:01 pm | In
Recipes
|
40 Comments
Like many of you, I'm completely hooked on Pinterest. There's so much inspiration there, but it's easy to feel like it's a huge time suck. I've decided I need to take action and actually put some of those ideas to work, or else, what's the point? Hopefully, Pinterest Paradise can be a semi-regular feature around here — we'll see if I can stay motivated.
A week or so ago, my friend Gail posted a link to a recipe for Custard Creams.  The pictures on the recipe post looked so delicious that I decided to try them.  I'm pretty much a sucker for anything that has frosting on it.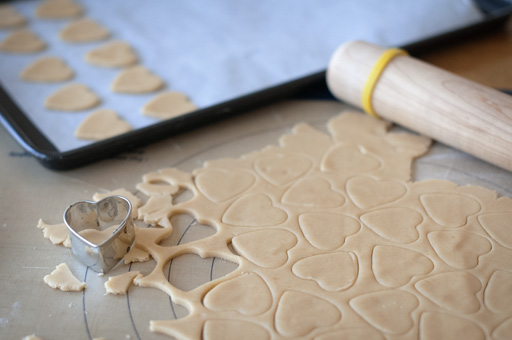 Due to our proximity to Valentine's Day, I decided to make my little custard creams in the shape of hearts and tint my frosting pink.  The original recipe said to use a cookie cutter that was 3 cm in diameter and I just happened to have a little heart cookie cutter that was just the right size.
The original recipe is from a site in England, so all the measurements are weighed. For those of you in the US that might not have a kitchen scale, I've done some conversions to this recipe. These cookies are D-e-e-e-licious and I hope you'll try them. They're nice and small too, so you won't feel guilty when you have more than one. And I'm betting you WILL have more than one!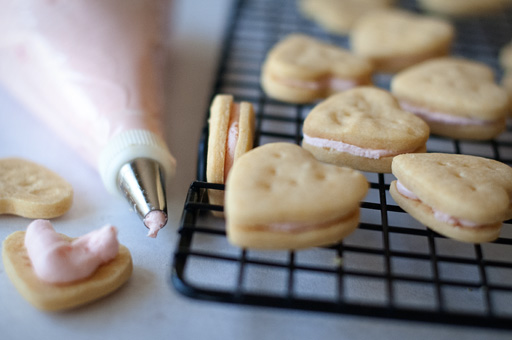 Valentine Custard Creams
1 1/2 c. all-purpose flour
1/3 c. + 2 Tbsp custard powder*
1/4 c. powdered sugar
3/4 c. unsalted butter, chilled and diced
1/2 t. vanilla extract
Place the flour, custard powder, and powdered sugar into the bowl of a food processor and pulse to combine. Add in the butter and vanilla and pulse until the mixture begins to come together. (If the butter is very cold you may need to knead it together by hand). Tip the mixture out onto a work surface and bring together into a flattened ball. Wrap with saran wrap and refrigerate for 30 minutes.
Place the dough on a floured work surface and roll to about an 1/8″ thickness. Cut out small hearts, approximately 1 1/4″ in diameter and dock with a fork. Place on a parchment lined cookie sheet and refrigerate for 15 minutes or until firm. While chilling, preheat oven to 350 degrees. Bake the cookies for 10 minutes or until just starting to color around the edges. Cool on a wire rack.
For the filling:
Scant 1/4 c. (3 1/2 T) butter, room temperature
1 2/3 c. powdered sugar
2 T custard powder*
Place the butter in the bowl of an electric mixer and beat until light and creamy, about 5 minutes. Then, slowly incorporate the powdered sugar and custard powder and beat on high until smooth and fluffy. Add a few drops of pink food coloring and mix thoroughly. Place the frosting into a piping bag fitted with a small plain tip and pipe onto half of the cookies.
*You should be able to find custard powder in the international foods section of your grocery store. If you're in the midwest, Meijer carries it.
After your cookies are all set, you can have some fun with packaging. My little cookies fit perfectly into plastic pretzel bags.
Don't forget to leave them in a place where someone you love is sure to find them!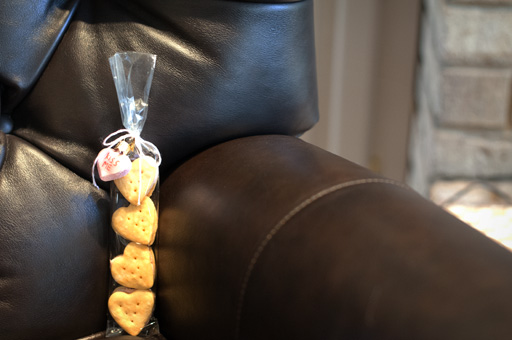 XOXO,
Anna
40 Comments
Sorry, the comment form is closed at this time.
Thanks for stopping by!