February 12, 2012 on 10:52 am | In
Peep Days
|
34 Comments
Well, how is your weekend going?  Are you getting all geared up for Luuuuuv Day on Tuesday???  Here in ThimbleannaLand, we had a super fun day with the Quilty Peeps yesterday.  Lots of sewing and eating, as always.  We had a little Valentine's luncheon in the middle of our day.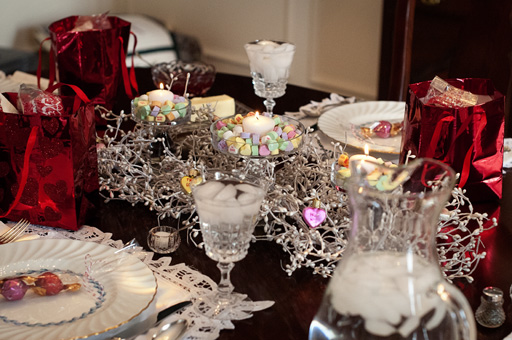 Gurney, Junie and I are pinterest addicts, so we spent a little bit of time bringing Jewels into the fold (Holy Cow Woman — were you up all night pinning????).  The reason I tell you this is because Pinterest played a big part in our get-together.  For lunch, I made a Potato and Asparagus Frittata, Jewels made Ina's delicious Cape Code Chopped Salad, and Junie brought these wonderful dinner rolls that she found on pinterest.
And then, for dessert, Gurney bestowed this beauty upon us — a gorgeous (and divine!) Kahlua Cake (from pinterest).
We had to keep our strength up while we were sewing.  There was lots of snacking.  Junie made the yummy Fruit Salsa with Cinnamon Chips that's made the rounds on pinterest. (Are you sick of hearing about pinterest yet?)   I was really excited about this 'cause I wanted to try it.  We all loved it.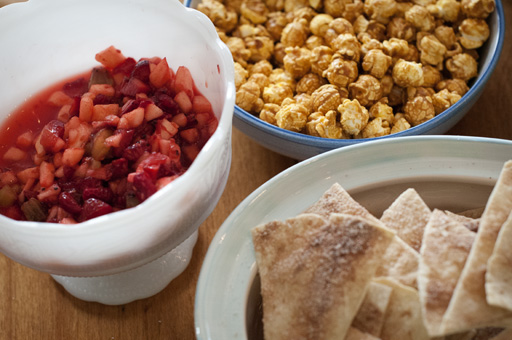 And Jewels made us these gorgeous Valentine cookies, courtesy of Martha.
In spite of appearances, it wasn't all about eating.  (Well, sort of.)  There was some sewing.  Gurney worked on the Aurifil block of the month project.  Her blocks are turning out SO cute!
Jewels was knitting a really pretty ribbon scarf.  I love those colors!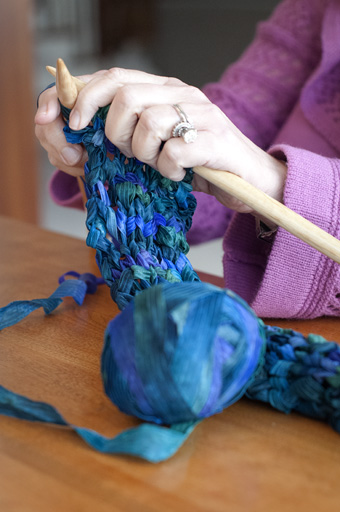 Junie continued her fabric folding efforts.  (See Jenny?  Junie just works on folding her fabric here and there, and eventually, she'll have it all done.  Just. Do. It!)
Junie even had help — we had to chase both kitties out of her fabric boxes.  Bad Kitties.  Scruff says he's sorry he bit you Junie — I think he's just jealous that you have so much pretty fabric.
And I worked on an old Valentine UFO.  I was going to work on my applique quilt, but decided to sneak another UFO finish into my year.  Almost done….
And there were gifts.  'Cause I have the best Quilty Peeps on the planet.  Jewels brought us each a filled-to-the-brim gift bag.  Lots of candy, cupcake liners and and adorable little dresden plate pin cushion.  Jewels loves anything red, so this is HER week LOL.  I don't know if I'll really be able to stick pins into that cute little pincushion.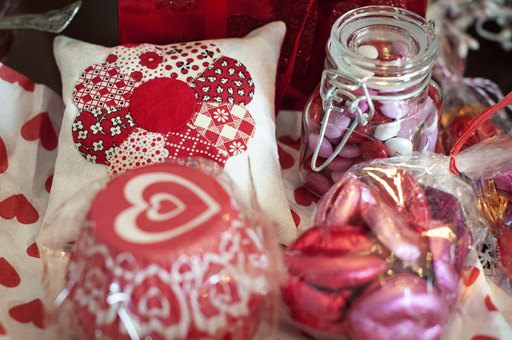 And Gurney gave me a beautiful pack of homemade greeting cards and a cute little schnibbles pattern.  Gurney makes the most beautiful cards and I'm so honored to have a nice selection to use when I need them.
We had a wonderful, really FUN day.  I love my Peeps and our sewing days — we don't manage to have them often enough.  We'll be celebrating our 25th year this year — how lucky can a girl be???  Thank You Thank You Dear Friends for all the wonderful memories and fun!!!
XOXO,
Anna
34 Comments
Sorry, the comment form is closed at this time.
Thanks for stopping by!