March 7, 2012 on 10:46 pm | In
Store
|
20 Comments
Hi Boys and Girls!  Just a quick update to let you know that I've added two different Charm Packs to the little Thimbleanna.com store.
First is Kate Spain's new Christmas line JOY.  There are some really cute prints in this collection which you can see HERE.  Wouldn't they be cute in a Christmas tree quilt like this one from The Purl Bee?  This line won't be released until June, so this is your chance to get a head start on those Christmas projects.  (Especially helpful for you guys participating in the Christmas Through the Year project hosted by Cheryl and Darlene!)
Second, is the highly anticipated VINTAGE MODERN line from Bonnie and Camille.  I love this line and there are some really adorable prints in these charm packs.  If you have any of Bonnie and Camille's older lines, these go perfectly with them — you can see the new prints HERE.  This line won't be out until May — be the first one on your block to make something from Vintage Modern!
You can find both of these charm packs HERE in my little store.
And, Ooohhhhh Look!  You're not seeing a photoshopped photo here.  Those are four FINISHED borders WooHoo!!!  Doing a BIG happy dance here.  I just have to put these borders on a pieced top and I'll have a finished top from a LONG time UFO.  Hopefully I can git 'er done this weekend.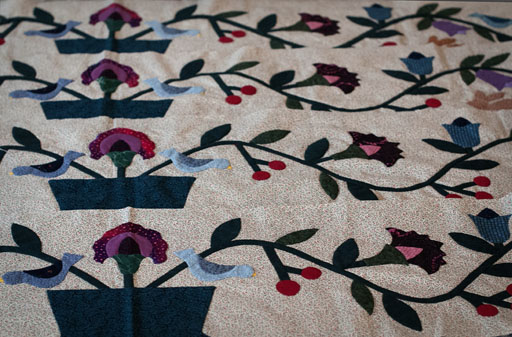 'Cause the weekend's almost here! Yipee!!!
XOXO,
Anna
20 Comments
Sorry, the comment form is closed at this time.
Thanks for stopping by!