March 10, 2012 on 12:18 pm | In
Chat
|
43 Comments
So, here I am, a day late with five little tidbits:
1. The Cupcake ATM.
MyDadLovesMeBestSister told me last night that she read about some woman who owned a cupcake shop and she was pregnant with middle of the night cravings and decided it would be awesome if people could get cupcakes in the middle of the night so she's come up with a Cupcake ATM. (Yes, I know that was a run-on sentence, that was the point. To make you as breathless as I am!) That "woman" is the owner of Sprinkles and Holeeeeey Cow! What a dream!!! Cupcakes on Demand! Check out this Video:
2. Friends are Good!
I recently won a giveaway from the VERY sweet Lisa at Periwinkle. The prize was the cute Friends are Good bag, but just look at ALL the other goodies Lisa included. Lots of products from Lush. I'd heard of Lush, but didn't know anything about them. I did a little online search and low-and-behold we have a Lush right here in town at our big mall (ha! guess that tells you how much I go to the mall.) The whole box of goodies had a heavenly smell and I'm really excited to try these products out. There's also some tea and an adorable hand-knit egg cozy that was cradling a Cadbury egg. Was is the operative word — that yummy egg is ALL gone.  Friends ARE good — especially when they're as lovely as Lisa.  THANK YOU Lisa!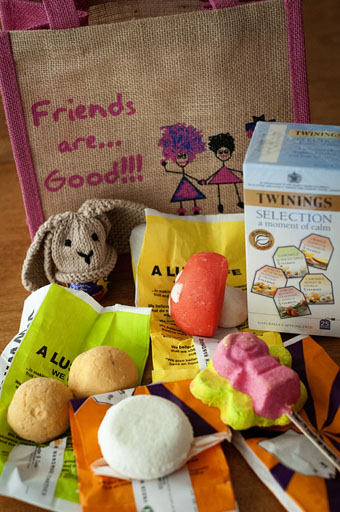 3. iAnything
Do the iPhone apps have no bounds? I'm always finding new apps and I love it. I recently installed the countdown app and I'm counting down the days until MyDadLovesMeBestSister's birthday — I send alerts to her hubby as "48 more days until MDLMBS gets an iPhone!" 'Cause we need to share the Luuuv. Did you know you can tell Siri to call you whatever you want? Just tell Siri "Call Me Joe" or whatever. Siri now calls me "Your Highness" and it cracks me up every time she says it. My newest crush-app is the iHandy Level.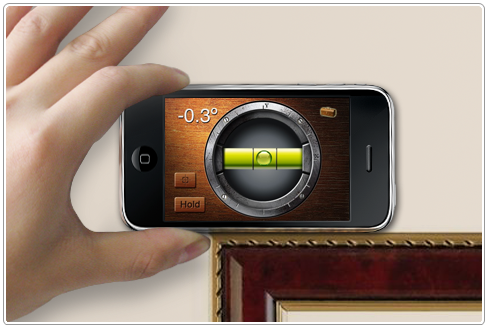 4.  Barter Books
The Angletopia website had a fun post this week about the story behind the Keep Calm and Carry On posters.  Here's a fun video to watch.  I REALLLYYYY want to visit this awesome-looking bookstore!
5.  Pinterest
Have you been following all the controversy about Pinterest?  I knew it wouldn't be long before a great thing got all mucky.  With very few exceptions of truly original artists, I just don't get what all the uproar is all about.  I've noticed that some people are preventing people from pinning images from their sites.  Which is great — it's their site and fortunately Pinterest has provided a way to prevent pinning.  (If you want to protect your site, you can find out how here.)  I don't get why you'd want to do that though.  Pinning means people like your stuff!  Pinterest brings you more traffic.  People come to your site who would have never even heard of you before. And as a user, I use pinterest to remember all the great ideas that I used to store in notebooks or folders on my hard drive ('cause let's face it — if you post your stuff out there, even if you have that little pop-up window that says I can't copy your picture, I can still get a copy of your photo).  I have a terrible memory.  So, if I can't pin your fun ideas, and we're not best buddies or something, I probably won't be following your blog anymore.  Not that it would be a great loss to you, but I'm betting there are others out there that feel that way.
There's been a ton of stuff written about this. Among it all, I found THIS quote from photographer Trey Ratcliff on opensource.com that I really like:
"When it comes to sharing your photographs online, you can go in two directions. You can put small images online, watermark them and then spend some or all of the week chasing down people that have used them inappropriately.

Or, you can be like me.

Offer up all your creations in maximum and beautiful resolution to the will of the web. The web, and the universe, has a certain flow to it. You can become one with that flow and enjoy the ride. You can let the opportunity of what-can-be motivate you rather than the more poisonous fear-of-loss."
And with that, I hope you have a wonderful weekend!
XOXO,
Anna
43 Comments
Sorry, the comment form is closed at this time.
Thanks for stopping by!