May 7, 2012 on 9:45 pm | In
Around the House
,
Quilting
|
23 Comments
Hidy Ho Neighbor! Thanks for all the May Basket love — you guys are the sweetest. Did you have a good weekend? It was beautiful here in ThimbleannaLand. And pretty busy — that's what happens in the spring — lots of yardwork to do.
So, no real quilting to speak of. I've been hankering (yes Barb, that's my inner Ellie Mae speaking LOL) to start a new quilt project. Something that will be portable and fun. But I can't seem to make a decision. I finally decided this might not be a great time to decide — maybe I should wait and see if something strikes me at market. So, I dug out the old yoyos and figured out how many I'll need to make a quilt. I've made about 750 so far and I'll need about 810. Not too bad — I should be able to whip those out in no time — I just need to sneak into the dungeon and cut up some fabric.
I also managed to bake a batch of cookies for BigDaddy. This weeks choice was a recipe I found on Pinterest. They're Biscoff Oatmeal Cookies. They're sort of crunchy and dry like the original Biscoff cookies, but with oatmeal in them. They're perfect with a cup of tea. Or Diet Pepsi. ;-D
And finally, our ducks are still hanging around this year. I love it when they show up every year 'cause I know spring has truly arrived.  They're usually only here for a week or two, but it's been 5 or 6 weeks this time. About three weeks ago, we found a nest with broken eggs tucked up under the ugly tree. I think they'd been nesting in there and something got the eggs.  Nasty Critters. I was really sad, 'cause we've never known them to nest here — they sort of hang out and then leave. So I'm wondering if they're confused by our long spring or lost nest or something. Three days ago the hen was wandering around quacking like she'd lost the drake.   Then, the last two days, he's been wandering around quack quacking like he's lost her. It's kind of sad. I'm hoping there's a nest somewhere and they really know where the other one is and they're playing decoy.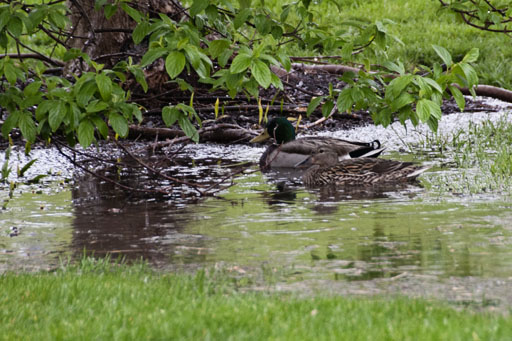 So, now that I've psychoanalyzed the ducks, it's back to work. Have a wonderful week!
XOXO,
Anna
23 Comments
Sorry, the comment form is closed at this time.
Thanks for stopping by!