June 24, 2012 on 10:46 pm | In
Recipes
|
25 Comments
Wait! Before we talk about Ice Cream — I've been terribly remiss in my Aurifil Block of the Month duties. Miss June is none other that Pam Kitty Morning! I'm so sorry it's taken me so long to mention your adorable block PKM — in my defense, I've been a little distracted with daughter duties this month. BUT — I LOVE the June block — How cute is this???
I think PKM might be putting this cute basket on a little hand towel — and now I have a hand towel on my to-do list.  I love all the vintage-y goodness about this cute little basket of flowers.  Very Fun!
Now, back to ice cream.  Is is hot where you are?  It's been pretty steamy (and DRY — send RAIN!) here in the middle parts of the US.  Perfect for some ice cream pie.  This is an old family favorite that we put into our family cookbook a few years ago.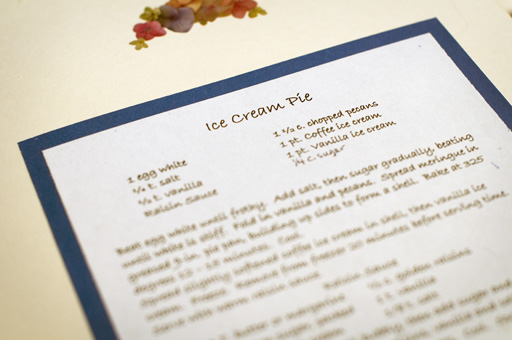 MyDadLovesMeBestSister used to request this pie in lieu of birthday cake every year.  I love it for the nut crust which is awesome.  And the sauce.  I know lots of people don't like raisins, and they can easily be left out of this recipe.  I LOVE raisins though, so they stay in for me.  This piece of ice cream pie is looking all melty, but it's still good.  You have to eat it pretty quickly in this heat if you don't want a big yummy puddle.
Ice Cream Pie
1 egg white
1 1/2 cups chopped pecans
1/4 teaspoon salt
1/4 cup sugar
1/2 teaspoon vanilla
1 pt. coffee ice cream (I hate coffee anything, so I substitute Maple Pecan Ice Cream)
1 pt. vanilla ice cream
Raisin Sauce
Beat egg white until frothy. Add salt, then sugar gradually, beating until egg white is stiff. Fold in vanilla and pecans. Spread meringue in greased 9-inch pie pan, building up sides to form a shell. Bake at 325 degrees, 12-15 minutes. Cool.
Spread slightly sofened coffee ice cream in shell, then vanilla ice cream. Freeze. Remove from freezer 20 minutes before serving time. Serve with warm raisin sauce.
Raisin Sauce
3 tablespoons butter
1 cup brown sugar, packed
3/4 cup whipping cream
1/2 cup raisins
1 teaspoon vanilla
1/8 teaspoon salt
Heat butter in saucepan until bubbly, then add sugar and cream, stirring until well blended. Add raisins, vanilla and salt and slowly bring sauce to a boil. Cook about 5 minutes. Cool. Spoon sauce over each pie serving.
Enjoy! It's a fun, decadent treat for a hot summer day!
XOXO,
Anna
25 Comments
Sorry, the comment form is closed at this time.
Thanks for stopping by!