September 10, 2012 on 9:04 pm | In
Travel
|
31 Comments
Well Hello There. Here we (and by we I mean you and me) are … we've just had a nice dinner (it was Shepherd's Pie of course!) and now we're going to go into the family room where I can bore you with a few of my trip pictures. I took a ton of shots. They're all my favorites, but just so that you don't have to be here until 3 a.m., I picked five favorite topics about Scotland. You know, just in case you might be planning a trip in the future. Hurry and make your excuses now if you have to leave — I know, you might need to go and clean your toilets!
So, here we go, in no particular order …
One. Applecross.
Or, rather, the drive to Applecross. When TheManoftheHouse and I were in Scotland 4 years ago, a camera club from England was staying in our hotel and each evening, they would tell us about the cool place they'd been that day. One day, we followed their tip and had a fantastic little Highland adventure.  The last night we were there, they said "You must take the drive to Applecross" but we were leaving the next morning, so I took a mental note and promised myself that I'd do it on my next trip to the Highlands.  I'd heard stories about this drive — it's all single track roads with "hairpin" turns. One travel book referred to it as a "white-knuckle" drive.   I was actually worried about driving it — I was driving on the wrong side of the road, the wrong side of the car and shifting on the wrong side of the car, after all.  This sign at the beginning of the drive didn't instill much confidence either, and we came really close to taking the alternate low level route.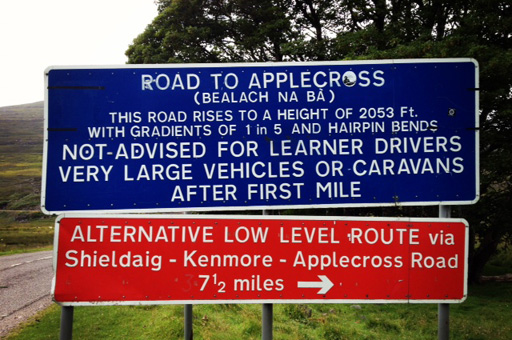 But Oh MY!  Am I ever glad we took the leap.  The drive wasn't that bad at all — I wouldn't really even call the turns "hairpin" and I don't think either of us had white knuckles.  The views along the route were stunning.  Absolutely gorgeous.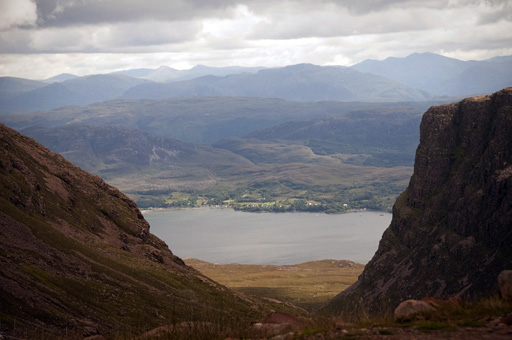 There's no way any picture could do justice to the views.  We were really lucky and it was a beautiful day (which means spotty drizzle here and there LOL.)  The drive to Applecross is a must if you visit the Highlands, imho!
Two.  The Highlands.
Ok fine.  This is a broad category, but the bottom line is that no trip to Scotland is complete without a visit to the Highlands.  The beauty will take your breath away.  I can't think of anything that could convey just how gorgeous it really is — maaaayybbeeee an IMAX movie with swooping helicopters, but probably not.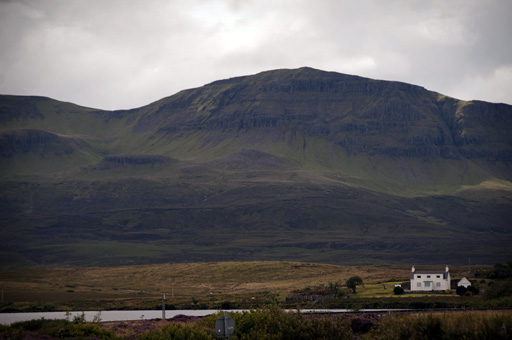 You get mountains AND the sea.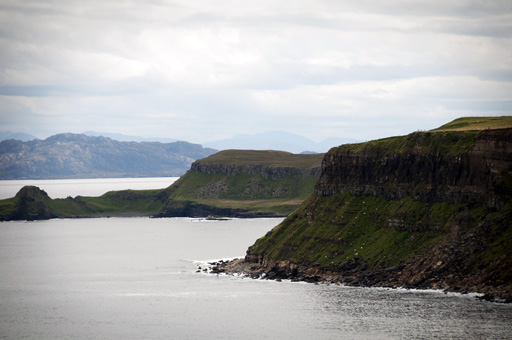 And Sheepies!  (Ok, you get sheepies in the rest of the UK too, but they're extra special in the Highlands.  ;-D )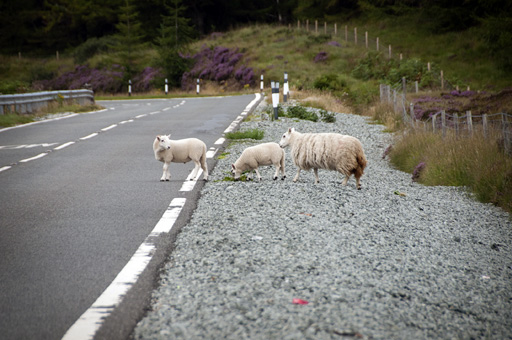 Three.  Heather.
You may have noticed a little purple in the sheepie shot above.  That's Scottish heather and it's everywhere and it's gorgeous!  It was in full bloom.  My other trips to Scotland have been in late October, so the heather was a burnt orange.
I had no idea it could be so fabulous.  Entire mountains were Purple.  WOW!
Even the sheepies love it.  I think they eat it.  Yum.  Yum.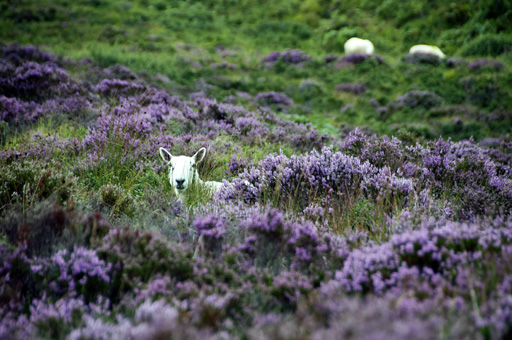 Four.  Fishing Villages.
There are so many pretty little villages in Scotland — it made me want to cry!
When our original plans changed and we didn't stay as long in Edinburgh, I booked a little bed and breakfast in Eyemouth.  The owner of the Bed and Breakfast we stayed in was talking to us and she told us a teeny bit about the history of Eyemouth.  She mentioned a fishing disaster that occurred in October of 1881.  She said that a large number of fishermen got caught out in a surprise storm and there were almost two hundred fatalities.  She told us about a statue in the middle of the little village that was recently commissioned to commemorate the women and children who were left by the disaster.  Here they are — looking out to sea and grieving for their lost fishermen husbands and fathers.
I love all these little villages.  They all have a story to tell and it seems like every place had some occurrence of historical significance.  I think it would be fun to visit Scotland again and just drive around all the coasts visiting fishing towns.  (Which would take a long time, btw.)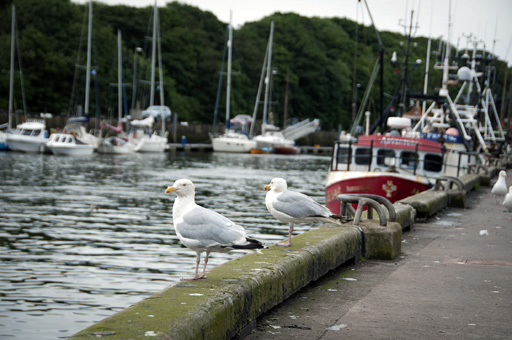 Five.  Castles.
Who doesn't love a good castle?  This is Eilean Donan Castle — the classic castle that you see in many travel brochures and ads.
We also visited Edinburgh, Stirling (look Isabelle — I spelled it correctly — in my defense, my parents grew up near a town called Sterling!), and Alnwick castles.  And Tantallon, a castle ruin pictured below.
Tantallon was a last minute decision and surprisingly, it was one of our favorites.  We were free of the crowds that were everywhere this time of year.  I think it's a best kept secret.  The setting is beautiful — it sits on a cliff looking out to the sea and it sits opposite Bass Rock which is also gorgeous.  Bass Rock is the home to a large colony of gannets — the white you see all over the rock are birds.  It even comes complete with a lighthouse — what more could you ask for?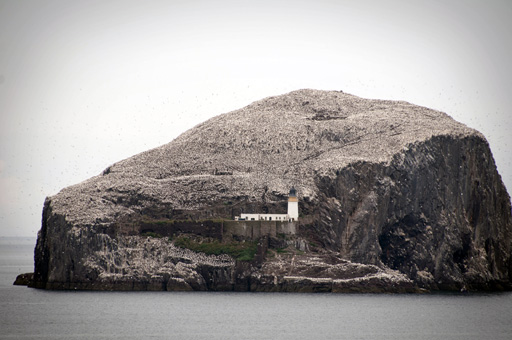 So, there you have my top five for Scotland. That last category is actually a segue so that I can tell you my top five for London next time. (I see you nodding off over there!) We visited three castles in London too (Windsor, Hampton Court and The Tower for those of you keeping track). Now you're free to go think of a good excuse for the next time I invite you to dinner to see vacation photos!
XOXO,
Anna
31 Comments
Sorry, the comment form is closed at this time.
Thanks for stopping by!