September 28, 2012 on 10:37 pm | In
Knitting
|
42 Comments
Sheesh! I meant to post yesterday, but by the time I got home from work, ate dinner, and went to visit MeMum and BigDaddy, the evening was over.  Then tonight, we went to a movie (Trouble with the Curve — cute movie!) and when we got home we had to deal with a little credit card fraud.  (Apparently, I've lost my card and whoever found it went on a little 5 digit spending spree.)
Anyway, there's been actual knitting around here! With the help of a little airplane time on the recent Scotland trip, I managed to finish my Flock Socks. Or, as I call them, my Sheepie Socks. They're a little loose, but I love them.
I knit them so that the sheepies would show through the "window" of my shoes.  (Pardon those need-to-be-polished scruffy shoes.)
I purchased the yarn at our fab local yarn shop, which has a website.  They also have the link to the pattern.  The sheepies had fun strolling through the grass.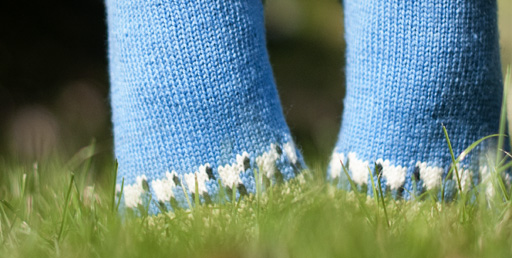 Too bad I didn't finish them up on the trip, they could have had a little stroll with real sheepies.
And just because, I'll leave you with a Zinnia shot. My inaugural zinnias have been beautiful and I'll definitely be growing them again.
Have a great weekend! I'll be back…oh, probably Monday with the winner of the Brit Bunny Pincushion. (There's still time to enter the drawing if you're interested.)
XOXO,
Anna
42 Comments
Sorry, the comment form is closed at this time.
Thanks for stopping by!