March 12, 2013 on 7:17 pm | In
Quilting
|
23 Comments
I thought I'd pop in for a minute and take a yoyo break.  I've been yoyo obsessed and I'm spending almost all not-at-work moments sewing those darn yoyos to their quilt.  The Count?  Yoyos: 688, Me: 180.  I'm getting there!  Progress will probably slow down as the project drags on though — you probably know how that goes.
Before I started sewing the yoyos down, I managed to make a few more of the pieced stars that I started making a few months ago.  This is a project that will reeeeally be slow, but that's ok, I'm enjoying the process.  I also had two happy discoveries that will make this project more fun.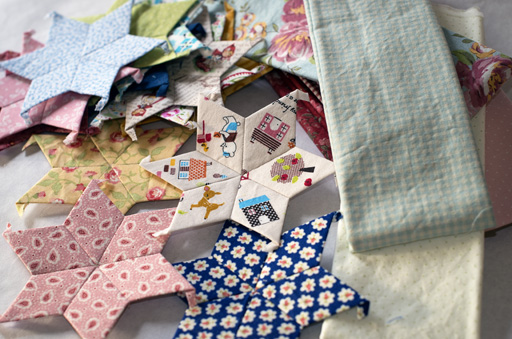 I wasn't terribly happy with my joining stitches and I remembered that MeMum always used silk thread when she was stitching applique blocks.  I decided to order a few spools and it makes all the difference.  The silk thread is so fine, it gets partially buried into the fabric.  Yay for less visible stitches!
I also realized that one little charm square will give me 3 or 4 diamond pieces.  A charm pack has 42 different prints, so that means that two charm square packs will make 42 different stars.  That's perfect for my scrappy stars.  My Avalon and Glamping charm packs arrived with perfect timing!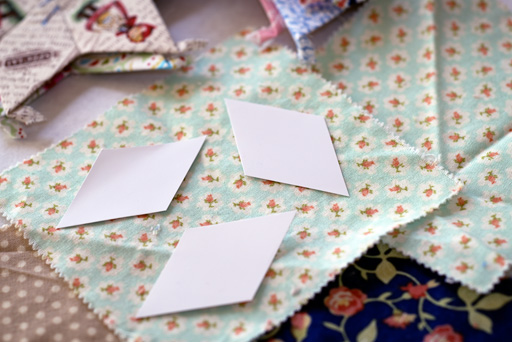 I probably should be trying to come up with a plan or a color scheme for these stars. Maybe I can think about it while I'm sewing down yoyos LOL!
I hope you're having a good week!
XOXO,
Anna
23 Comments »
RSS feed for comments on this post.
Leave a comment
Thanks for stopping by!