Hello, Hello. Have you had a good week? .   There's been some Steampunk progress here — I'm putting the blocks together now. Here's a picture of the first complete corner.
I'm going slowly and taking my time — putting one row a day together. I've had so much fun choosing fabrics, I'll almost be sorry to see it all put together.   Hopefully I'll be basting the quilt together this weekend.
Gosh, this weekend. The last one in September. Wow. It scares me to think how little time is left in 2013. The days are getting shorter and the fall nesting instinct is edging it's way into my days. Meals seem a little heartier than the lighter, summer fare. I thought I'd give you the recipe for one of our current favorites — Shrimp Fettuccini. MeMum found this recipe a few years ago in a cookbook that I brought to her after a trip to Salem Massachusetts and we love it.  I don't normally like very spicy food, but the jalapeno cheese in this recipe gives it just the perfect little bit of zing!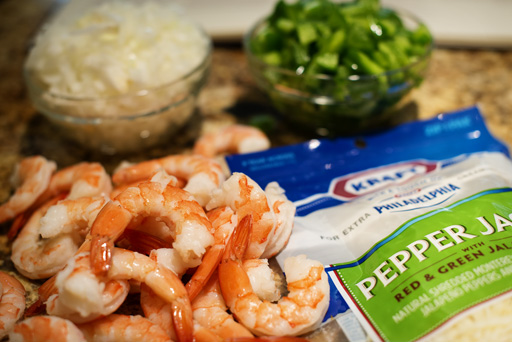 Shrimp Fettuccini
1 large onion, chopped
1 green bell pepper, chopped
1 clove of garlic, chopped
1/2 cup butter
4 teaspoons parsley flakes
1 pound shrimp, peeled and deveined **
4 teaspoons flour
2/3 cup half-and-half
8 ounces shredded  jalapeno Monterey Jack cheese
12 ounces fettuccini
1 cup shredded jalapeno Monterey Jack cheese
Preheat the oven to 350 degrees.
Saute the onion, green pepper and garlic in the butter in a large saucepan until tender.  Add the parsley flakes and the shrimp.  Saute just until the shrimp turn pink.  Mix in the flour.
Stir in the half-and-half gradually and cook until thickened, stirring constantly.  Add the 8 ounces cheese gradually, stirring until the cheese melts; set aside.
Cook the pasta al dente using the package directions, rinse with hot water and drain well. (Note from me: Or, save time and cook the pasta while you're making the sauce ;-D ) Add the pasta to the shrimp mixture and mix gently.
Pour the mixture into a lightly greased baking dish and sprinkle with the remaining 1 cup cheese.
Bake at 350 degrees for 20 minutes.
**The recipe calls for raw shrimp, but I buy the pre-cooked stuff  'cause I'm l-a-a-zy.  Just put them into the mix after the flour and half-and-half have been added.
Serve with some fresh, homemade crusty bread (not pictured haha) and you have a yummy, quick meal.
Have a great weekend!
XOXO,
Anna