Gee Whiz.  It's been almost another week since I posted.  I could have put in an appearance earlier in the week, but it was just too embarrassing to make you come back here at Christmas time with those creepy skeletons still in the header, and it's been hard to find the time to get rid of them.  It's finally done though — a not terribly exciting new Christmas header.  It's getting harder and harder to figure out what to do with those thimbles!
I've been locked in the dungeon with Christmas sewing all weekend, so there's no shareable quilting or sewing excitement going on here.  I did manage to make some little knitted stockings though, and I think they're pretty cute.
Awww, look, a puppy!  Did I tell you I'm a new Grandma???  TheFirstChild and SweetiePie picked up a new little puppy yesterday and he looks sort of like this one.  He's really cute — I'm sure there will be pictures to come — you know how us grandmas are LOL!
Anyway, back to the stockings.  They were a fun, easy knit.  The pattern is in the book "Handknit Holidays" by Melanie Falick.  I made the pattern as is, except that I changed the cuff — it had a little narrow cuff and I like them a bit wider.   I love cables, even if this one looks a little wonky due to it's stuffing.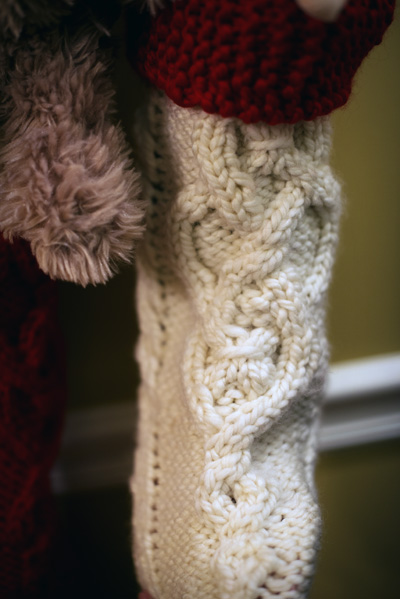 These stockings are the only speck of decorating around here.  It's very sad.  I made a deal with myself that I wouldn't decorate until I had this particular batch of sewing done and a deal's a deal.   I should have thought that through — the sewing is taking WAY longer than I'd planned.  It could be next weekend.  Ouch!
I hope you're more organized (or more realistic) than I am!
XOXO,
Anna