…of a White Christmas and it's looking pretty iffy out there. We finally have snow, but we're expecting a little warm-up on the weekend.  Fingers crossed that it won't all melt! I loooove snow and we got a nice little storm over the weekend. According to the weatherman, we got 7″. It's so pretty out the back window.
Well, how's your holiday prep coming along??? We're in the single digits now — only 9 more days until Christmas! I finally have a little decorating, a lot of shopping, and a little wrapping done. It's a mess, really. Super Secret Sewing took several weekends but that's been conquered now — Yay! And yesterday was the annual gingerbread baking day. I learned a few years ago that the gingerbread needs to be made earlier than the day before the competition to allow the gingerbread to dry out a little. That seems to help with all the cave-ins.  (Btw, here's the link to our recipe — you still have time if you'd like to do your own gingerbread houses this year.)
So, not much to show, but there has been a LOT of work going on around here — around your house too, I'm betting.  And, I'm thinking, if you're getting tired, you should treat yourself to a little surprise!  ;-D  I've put a few Moda precuts into my little shop just in case you decide to treat yourself.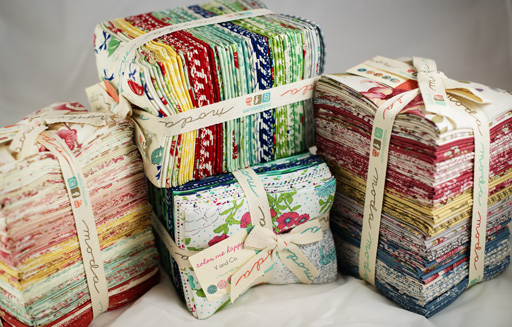 (L to R:  Printemps by 3 Sisters, April Showers by Bonnie and Camille, Color Me Happy by V and Co and Le Bouquet Francais by French General)
I also have some charm packs of April Showers listed just in case you need a last minute gift for a quilty friend or two.  Or (it goes without saying) YOU.  Did you buy yourself a gift yet this year?  I haven't bought mine yet, but it's almost certain to be fabric LOL.
Okey Doke.  Must run.  Still a little secret knitting that needs to happen.  Good Luck with the next week — Be Good  to Yourself!!!
XOXO,
Anna