Hey Kids — we're in the home stretch — how's it going out there???
It's all good here in ThimbleannaLand.  I'm done with work for the year WOOHOO!!!  I should be cleaning and wrapping as we speak, but instead, I'm procrastinating here on the computer.  I guess you have to sneak in a little downtime don't you?
One of my little Christmas gifts has been gifted, so I can show it to you.  I have a friend at work who will be a new, first-time Grandma in 2014 and she's beside herself with excitement.  I thought it would be fun to make her a little pair of baby booties for Christmas.  I found this free pattern on the Bernat website (most likely via Pinterest, but I can't remember).  My friend won't know the baby's gender for a few more weeks, so I chose a multi-color Koigu yarn — totally not what the pattern called for, but it seemed like a versatile pattern that should work for lots of different yarns.
After my middle of the night knitting marathon (why do I always think these little projects will be quicker than they really are?) I put the little booties in a clear cupcake box and tied them up with a tinsel bow.  Perfect for a quick gift!  (Ooooh, and I just noticed in these pictures, the striping pattern worked out the same for both booties — that was totally an accident — I couldn't have done that if I tried!  I LOVE it what that happens!)
This pattern called for the booties to be knit flat and then seam them along the bottom and up the back.  If you know me though, you know I loathe sewing on knits (which is odd since I love to sew so much.)  When the knitting is done, I want the project to be done.  So, I spent a little extra time (and ripping out which is why this ended up being a middle-of-the-night project) adapting the pattern for knitting in the round.  Normally garter stitch is knit, knit, knit, but when knit in the round you have to alternate between knit and purl rows.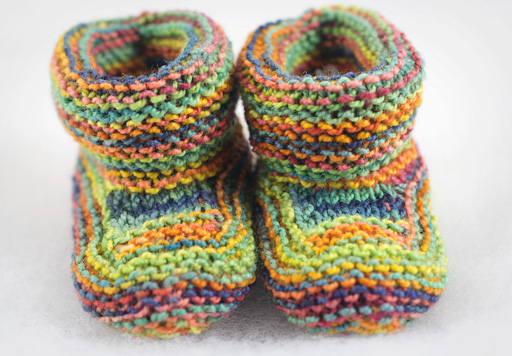 There were a few other changes too, so, in case you're like me and would like to try these booties in the round, here's the adapted Bernat pattern:
Circular Knit Bernat Baby Booties
Note: Please refer to the original Bernat pattern for gauge and sizing information for these booties. Number of stitches are for small (medium, large) booties, according to the original pattern. I knit the largest size using size 4 needles with my koigu yarn, which probably resulted in small to medium sized booties.
Using whichever circular knitting method you prefer (dpns or magic loop method), cast on 14(18,22) stitches. Turn work and knit 13(17,21) stitches into the bottoms of the just cast on stitches. You should now be back at the beginning of the cast on row of stitches — at the beginning tail of yarn. Your first stitch of row 1 will be knit into your first cast on stitch.
1st, 3rd and 5th rows: Knit.
2nd row: P1. ybwd. P12 (16,20). ybwd. P1. ybwd. P12(16,20). ybwd. P1. 31 (39,47) sts.
4th row: P1. ybwd. P14 (18,22). ybwd. P1. ybwd. P14(18,22). ybwd. P1. 35 (43,51) sts.
6th row: P1. ybwd. P16 (20,24). ybwd. P1. ybwd. P16(20,24). ybwd. P1. 39 (47,55) sts.
Rows 7,9,11,13,15,and 17: Knit.
Rows 8,10,12,14,16 and 18: Purl.
Shape toe:
Note: Depending on the circular knitting method you are using, stitches may have to be shifted around on the needles to knit the toe section.
1st row: K15 (19,23). K2tog. K5. Sl1. K1. psso. Sl1. yf. Turn.
2nd row: K2tog. K5. Sl1. K1. psso. yf. Sl1P. Turn.
3rd row: K2tog. K5. Sl1. K1. psso. Sl1. yf. Turn.
4th row: As 2nd row.
5th row: K2tog. K5. Sl1. K1. psso. Sl1. Turn.
6th row: P2togtbl. P5. P2tog. Sl1P. Turn.
7th and 8th rows: As 5th and 6th rows once more.
9th row: K2tog. K5. Sl1. K1. psso. Knit to end of row. 21 (29,37) sts.
10th row: Purl. Continue in garter st (alternating Knit and Purl rows) for 2 (2½, 2½) ins [5 (6, 6) cm], ending
with a Purl row. Cast off and weave in beginning and ending tails.
Enjoy those cute little booties!!!
Have a GREAT weekend — I hope you're doing something fun and festive!!!
XOXO,
Anna