May 22, 2009 on 11:47 pm | In
Around the House
|
38 Comments
Well, there's just not much Thimble in Thimbleanna these days.  It's so, so sad.  It's always hard in the spring and fall anyway, because of the extra yard work.  Add a graduation, two kid moves this month, and the every-other-year mulching and it's just hopeless.
The big truck rolled in this morning and dumped the mulch in the driveway.  See all that smoke?  That wasn't dust — the mulch was steaming HOT.  (???  Did they cook it before they arrived?)  Mr. DumpTruckMan managed to dump some of the mulch right on top of a few of my coneflowers so I was scurrying to rescue them before they were fried.
Can you see the pretty green of the trees peeking into the picture?  After a cool, wet spring, our spring colors are brilliant and gorgeous this year.  Aren't the green and chocolate brown pretty together?  I'd love a quilt or some socks out of those colors.  And throw in some robin's egg blue — yum, yum!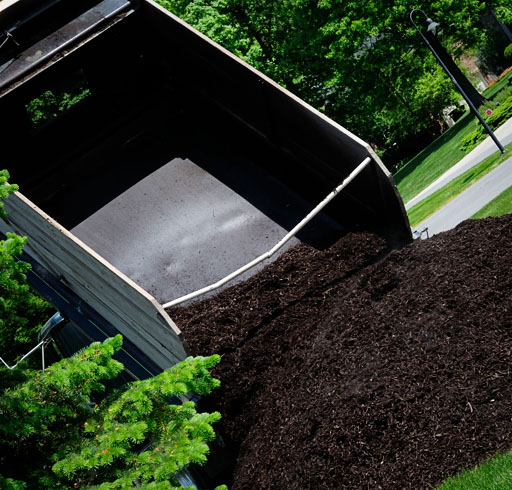 Well, now you know how I'll be spending my weekend.  I'm hoping we'll be done by Sunday night so I can at least have a free (ha!) day on Monday before returning to work on Tuesday.  Wish us luck!
I hope you all have a wonderful weekend!
XOXO,
Anna
P.S. Talking about those pretty chocolate and green colors reminded me that I forgot to show you the cool sock yarn that I picked up at Cami's when we went to TheSecondChild's graduation a few weeks ago. They are Lorna's Laces custom colors. I vowed I'd stop buying Lorna's Laces because of the problems I've had with pooling, but I couldn't help myself with these pretty yarns (this picture doesn't do them justice.)  When I left the store, Cami had lots more of this yarn and I'm sure she'd be happy to ship to you, so if you're feeling the need for some pretty chocolate + pink or blue, ring her up!  (Hey, she's not paying me to say this — I just don't know where else you can get this yarn.  ;-)  )
38 Comments
Sorry, the comment form is closed at this time.
Thanks for stopping by!