June 16, 2009 on 10:28 pm | In
Quilting
|
60 Comments
Wow!  Thanks for all of your wonderful comments on the last two posts.  You are all so very kind, generous, AND clever!  I've had a great time reading every one — and laughing a lot too.  Talk about making a girl happy — thank you!
Several other things are making me REALLY happy — starting with this adorable little silver bird.
This is another one of my fabulous prize winnings from the last month or two.  This time from Sweet Emma of SilverPebble.  I love birds and I Love Love Love this little silver bird.  I've been wearing her since she arrived and this picture in no way does her justice.  Emma's work is so precise and professional.  Thank you  so much Emma — really…I can't begin to tell you how lucky I feel to be wearing one of your creations.  And how happy it makes me!  If the rest of you haven't been to Emma's blog or shop, you should definitely go and visit.  Emma is adorable and she has lots of gorgeous jewelry in her shop.  I even saw some birds in the shop, just in case you want to be my twin!  (Remember friendship rings when we were kids?)
Another thing that's making me VERY happy is the end.  The. END. of the t-shirt quilts that have been hanging over my head for the last few years.  Yipeeeeeee!!!!  As some of you know, we had a good friend who was tragically killed while riding his bicycle a few years ago.  His wife asked me if I knew someplace where she could have his t-shirts made into quilts — one each for their son and daughter.
Their son is TheFirstChild's best friend and they have been so good to TheFirstChild that I really wanted to make these quilts.  (In spite of all my wailing and gnashing of teeth with the process.)  Our friend was the coolest guy — everyone often joked that he was just one of the kids.  When they all came home for visits from college, he was the one father who was always welcome to hang out with all of them.  I think that is reflected in his shirts too — they're all so fun and adventurous.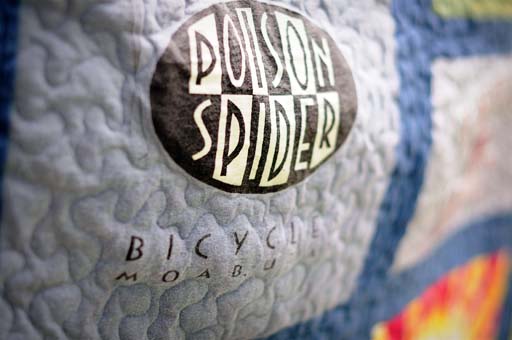 I used flannel on the sashing and on the back so they'd be nice and soft.  I hope my friend is happy with them — it will still be several weeks before I see her to give them to her.  She probably thought she'd never see these shirts again.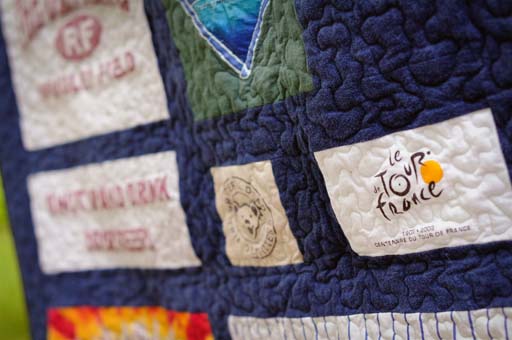 Hey…who's peeking in here?  It looks like PaulKitty.  But no…I took these pictures at MeMum's house.  This is Sally, their sweet black cat.  Sally is getting old and she came by to rub up against the quilts.  I caught her picture in mid-meow.  ;-)
And speaking of PaulKitty, there's been new evidence in the Kitty Paper Caper.
Caught him — red-handed and trying to get away!
XOXO,
Anna
60 Comments
Sorry, the comment form is closed at this time.
Thanks for stopping by!