July 4, 2009 on 5:26 pm | In
Cupcakes
,
Holidays
|
49 Comments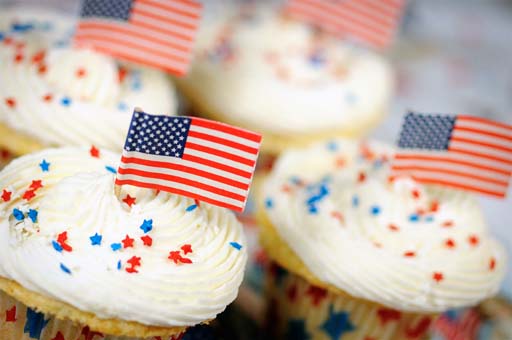 For those of you in the US, Happy Independence Day! We're off to our neighbor's house for our annual cookout where we play games and eat, eat, eat. We'll toss eggs (in the rain), play cornhole (in the rain), hula-hoop (in the rain) and I have a secret new game for the kids — I froze some t-shirts and the first one to get their frozen t-shirt on will win a movie ticket. (Have you ever tried to unpeel frozen fabric??? – the rain will be their friend!) There will be lots of food — we're taking baked beans, spaghetti salad, and of course, cupcakes!
Happy, Happy Weekend!
XOXO,
Anna
Edited to add:  OHMYGOSH!  If you've never played the frozen t-shirt game you should try it.  Take some t-shirts (I found some at Menards for $1.99 each), get them wet, fold them like you'd put them in a dresser, and then freeze them.  Then, when you have a bunch of people together, hand them out and make it a race.  The first one to get that frozen shirt on wins a prize.  We had the best time.  Before I even had my instructions out, TheSecondChild was running into the house to throw his in the microwave.  My niece was right behind him, and ran to the sink to cover hers with hot water.  TheFirstChild ran out onto the wet grass and was on his hands and knees, rubbing that t-shirt back and forth in the grass trying to get it to thaw.  The other five participants were doing all sorts of other tricks like sitting on them, squeezing them and prying them apart.  They all said when they did get them on, it was freezing cold.  It was HYSTERICAL!  Highly recommended for a LOT of laughs!!!
49 Comments
Sorry, the comment form is closed at this time.
Thanks for stopping by!