August 19, 2009 on 8:34 pm | In
Sewing
|
43 Comments
I've been playing with my embroidery machine a little bit.  A week or so ago, a friend brought me some fabric and asked me if I'd embroider a monogram on some fabric for her.  Even though I've learned to say no to some requests (when I was younger, I didn't know how to say no, but MeMum taught me how to gently decline some of those gracious "offers"), I'll never be able to repay this friend's kindnesses to my boys, so I gladly accepted.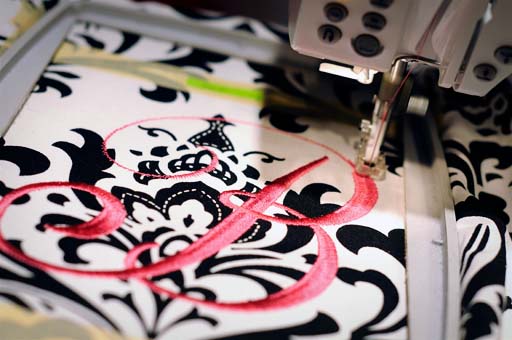 My friend is re-doing her daughter's room and has purchased a little 2-seat ice cream set for one corner of the room.  Several years ago, I monogrammed the seat backs for our ice cream set and she wanted to duplicate the look.
Our ice cream set sits in the corner of our sun porch.  Doesn't that adorable quilt that Toni sent me look cute hanging there with "She likes to Nap"?  (It's true — I Love to Nap!)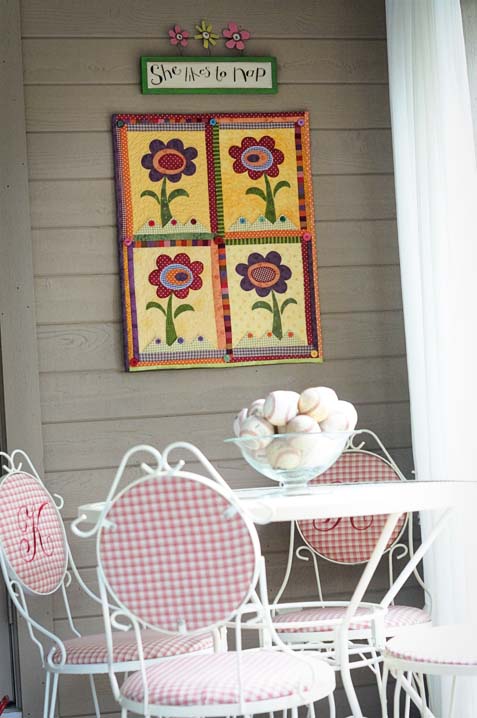 Thank you again Toni — I had an ugly wreath hanging there and your quilt is just what that corner needed!
Now…here's to a happy slide into the weekend for all of you!
XOXO,
Anna
(P.S.  Some technical info for those of you with embroidery machines: these letters come from the Arabesque Monogram Set at Embroidery Arts.  I love Embroidery Arts monograms — they're beautifully digitized.  I doubled the letter size with my Easy Sizer software.  Easy Sizer is a product of Echidna Sewing (an Australian company) and if you don't have good re-sizing software, this company can't be beat.  I looked on their website and didn't see the Easy Sizer software, they may have sold out to another company by now, but I'm sure an e-mail to them would get some answers.  Years ago, I read on a Yahoo board that they were the best sizing software available and that certainly has been true for me.  My Viking sizing software can't handle increases more than about 50%.)
43 Comments
Sorry, the comment form is closed at this time.
Thanks for stopping by!