September 16, 2009 on 10:10 pm | In
Quilting
|
60 Comments
As I promised on my last post, we finally have some quilting here in Thimbleannaland.  A few years ago, MeMum, BigDaddy, TheManoftheHouse and I had a hot date every Wednesday night.  The menfolk would watch t.v. while the womenfolk quilted.  The first quilt we finished was this jumbo applecore, probably pieced during the 30′s or 40′s.
This quilt is all handpieced and MeMum thinks that my father's mother did the piecing. We don't know for sure, but as far as I know, we don't have any other quilts by her. I don't remember her ever quilting — I knew her as a knitter and crocheter.  I love some of the prints in this quilt and would love to see them re-made.  And look across the middle at that blue and white polka dot that's back in style now.  What's going on there?  Why are they all placed in the same row?  Inquiring minds want to know!
This is a funny little quilt, but I love it.  My favorite piece is the striped applecore that has been pieced.  I like to think that my grandma loved that pretty pink, green and blue stripe and wanted to use every last scrap in this quilt.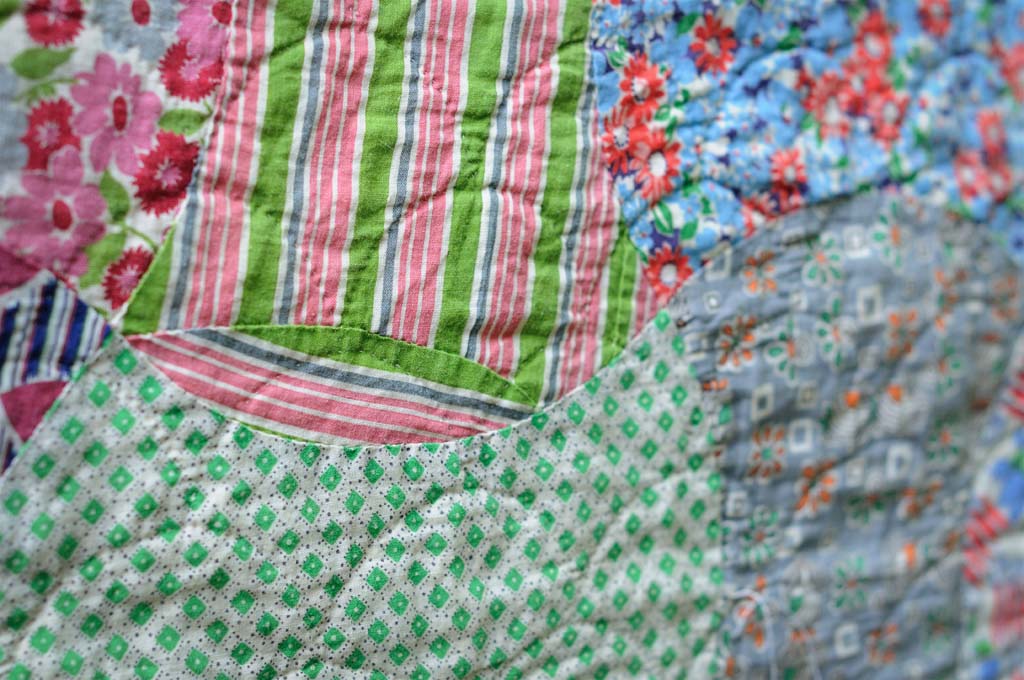 MeMum and I decided to quilt this quilt with an all-over clamshell pattern and let me tell you…it was a bugger (booger?  buggar???  how do you spell that anyway?) to quilt.  The fabrics are sort of feedsack heavy and we used a very weird consistency batting that MeMum had in her stash.  We had to quilt each stitch individually because it was so hard to get the needle through the fabric and batting.  I think we both complained the whole way through this quilt, and our stitching definitely wasn't at its best.
Needless to say, we were very happy when it was finally finished.  It was fun to work together though — two people quilting are twice as fast as one!  There is more to this little applecore story…stay tuned for part 2….
XOXO,
Anna
60 Comments
Sorry, the comment form is closed at this time.
Thanks for stopping by!