September 20, 2009 on 2:05 pm | In
Quilting
|
55 Comments
Oops, sorry about that little delay in posting part 2 of my applecore story.  It's been busy here in ThimbleannaLand.  MeMum and I wasted enjoyed our day at the Country Living Show in Columbus, Ohio on Friday.  It was a fun day, but the show was a bit disappointing — especially when you consider the ridiculous price charged for tickets.  To help recover the day, we decided to swing by the outlets at Jeffersonville to visit the Williams Sonoma outlet store, but, to add insult to injury, the outlet store has closed.  GAH!  We were SO disappointed!  Oh well, it was good to have MeMum all to myself for the day.
So, on to part 2 of the jumbo applecore.  As some of you may have guessed from my recent toe-grabber stitching activity, I decided to copy grandma's jumbo applecore quilt.
I've had this Fresh Cut fabric sitting in the stash for 2 or 3 years now, and the crush is wearing off, so I decided I better use it.  Do any of you do that?  Do you hoard a fabric that you just can't bear to cut into for so long that you're not that crazy about it anymore?  That drives me nuts, so I decided I should hurry and get this project sewn.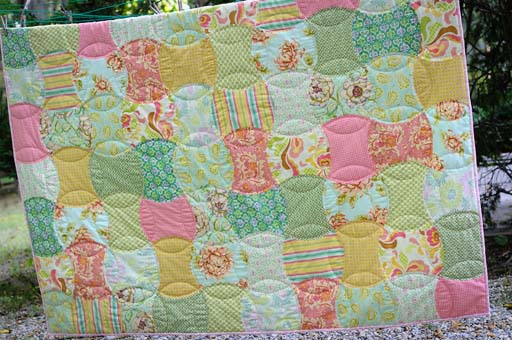 I love this applecore pattern as a way to showcase big prints that you don't really want to cut into smaller pieces.  On the last post, I discussed the clamshell quilting pattern that we used on grandma's applecore.  For this quilt, I decided to quilt it using big circles.  I used pearl cotton and quilted bigger stitches.  I wouldn't use this technique for everything, but I think it's just fine for bigger "funner" quilts.  I think the quilting makes a big difference — when I look at grandma's applecore, I see the applecores, instead of the quilting — when I look at my applecore, I see the big circles, instead of the applecores.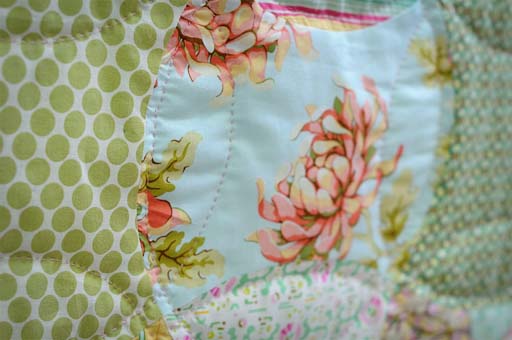 I love the curvy binding on grandma's quilt, but I really don't like the pointy corners that you end up with, so I decided to try just a straight binding on my applecore.   It was fun to try both bindings and I'm still not sure which one I prefer — do you have a favorite?
As for the jumbo applecore template. I made it by taking a plastic template for a much smaller applecore quilt and increasing the size on a copy machine.  As it turned out, this wasn't a great technique and I had some trouble with puckering — fortunately the quilting helps to absorb much of it.  The fact that the applecores are off a bit is also emphasized in the quilting — if you look closely, you can see that the circles aren't perfect circles — they have a bit of an elliptical shape to them.  (As an aside, do you like how MeMum's trellis makes a perfect outdoor quilt rack?)
While I was quilting this quilt, I pondered the wonky applecore template and wondered how I could make sure that the concave part of the applecore matched the convex part of the applecore.  I just always assumed that this was a template that you would have to buy, since you can't just draw it with rulers and graph paper.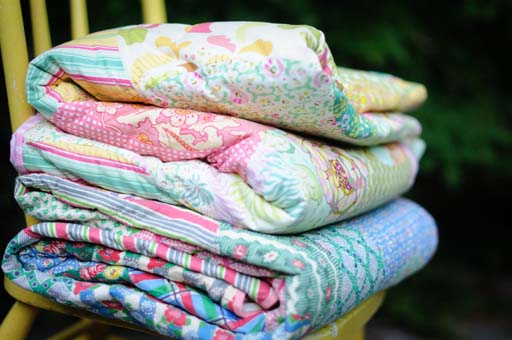 By the time I was half-way done quilting the first row of applecores, I had an ah-ha moment.  Turns out there's an easy solution.  You might already know it, but if you don't, I'll show you in part 3.  ;-)
XOXO,
Anna
55 Comments
Sorry, the comment form is closed at this time.
Thanks for stopping by!