September 27, 2009 on 10:11 am | In
Peep Days
,
Quilting
,
Recipes
|
39 Comments
Happy Sunday!  Are you all having a good weekend?  I'm having a Fabulous Fall weekend!  I spent all day yesterday at a fun sewing day with my quilty peeps.  We have such a hard time getting together this year and it was wonderful to be able to spend some time with my BFFs.
Junie outdid herself by playing hostess.  She waited on us hand and foot!  We always have a potluck of sorts for lunch (there is a little planning — we each choose what "course" we'll bring.)  She made this deeeee-licious Potato Bacon Torte.  You should try it — the recipe is HERE, and I promise, if you like those ingredients, you won't be disappointed.
Gurney brought our salad — it was fantastic too.  I conned Gurney out of the recipe because I loved it so much.  (In a large bowl, mix together: 1 lb. cabbage that has been shredded (or you can buy the preshredded cabbage mix that has carrots too), 2 pkgs. chicken ramen noodles, 3 chopped green onions, 3/4 c. slivered almonds, 5 Tbsp sesame seeds.  Add to that a dressing that you've made ahead of time and chilled:  3/4 c. oil, seasoning packets from the 2 ramen noodle pkgs., 5 Tbsp vinegar, and three Tbsp sugar.  After you've thoroughly tossed the salad and dressing, top with 1 c. shoestring potatoes.)  It was yummy too and made the perfect side to the potato torte.
Jewels made her fantastic Lemon Dessert which we practically begged her to bring (ok, we did beg her to bring).  I posted this recipe HERE several months ago, so this is a recycled picture.  The dessert definitely wasn't recycled though and it was even better than the first time!
I managed to be the big slacker in the group — I picked up donut holes for our breakfast and brought some fresh sliced fruit.  Hey peeps, I think that's a tradition we should keep — the previous hostess gets a slacker day — Junie, you're up next!
As for projects, we were all busy all day.  Gurney finished up this ADORABLE little pumpkin quilt as a gift for a friend.  Her embroidery is perfect and we all loved this piece.  Gurney gets the prize for cutest and most creative project!  (And because I know some of you will ask, hopefully maybe Gurney will read this and leave her pattern source in the comments.)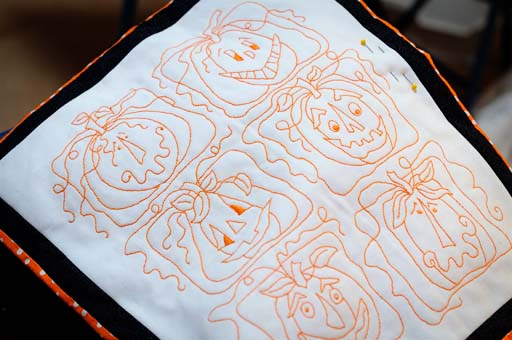 Junie worked on folding her fabric stash — when she wasn't meeting her hostess duties.  Fabric folding is a huge project, so she'll be at this for several more days!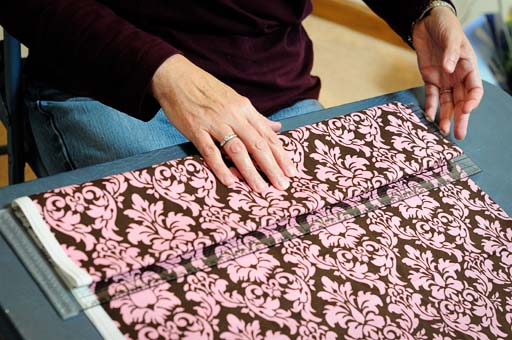 Jewels worked on these adorable mini-dresden pieces.  Jewels does beautiful hand paper-piecing and I can't wait to see this project unfold.  (Aren't those fabrics pretty?)
I kept plugging away at my yoyos and also did a bit of handwork on a backpack that I've been working on.  The backpack will be just like the black and white backpack in this post, without the little bride tag, of course!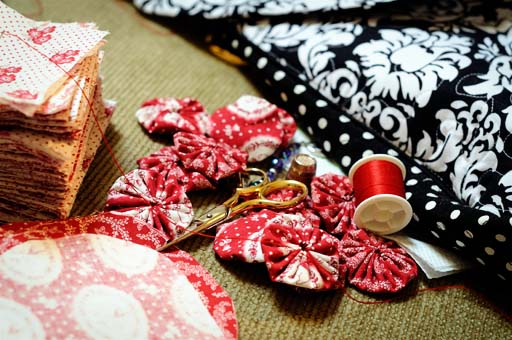 So, as you can see, we had a wonderful day.  Gurney has had a grandbaby explosion in the last few years (with another one on the way!) and since she lives two hours away, it's made it really hard for us to all find a free weekend.  Thank you quilty peeps for an awesome day — let's not make it so long until the next one!
XOXO,
Anna
39 Comments
Sorry, the comment form is closed at this time.
Thanks for stopping by!