October 15, 2009 on 10:34 pm | In
Chat
,
Travel
|
49 Comments
Many of you know my good blog friend Isabelle is a college English teacher in Scotland and she's always posting something clever, witty or funny.  A few days ago, Isabelle had a post for me and you must go read it.  Run over there … it's a short post and you won't understand this next part unless you do … I'll wait.
Tap…
Tap…
Tap….
Funny, no?  Very Funny!  But, dear Isabelle, I'm afraid your vision of me doesn't match reality.  This is more along the lines of my fantasy:
And look!  He's wearing your quilt, standing in the road just down the hill from Edinburgh Castle.   You girls in Scotland see all the best Man Candy!!!
Funny that Isabelle's student should prompt that post just now.  Exactly one year ago today, TheManoftheHouse and I were packing our bags to get on the plane the next day for our little adventure to Scotland to visit with Isabelle and Mr. Life.
To celebrate, I made Shepherd's Pie for dinner tonight (so perfect for our cold rainy weather) and I've been looking through the pictures I took last year.
It's hard to believe that it's been a year already!  We had such a great time and saw so many beautiful things.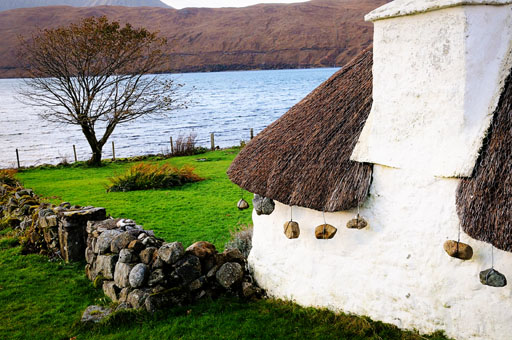 I love the thatched roof in the above picture.  If only we could have a roof like that on our house.  Those rocks crack me up but with the high winds we experienced just on our trip, I'm sure they're a necessity.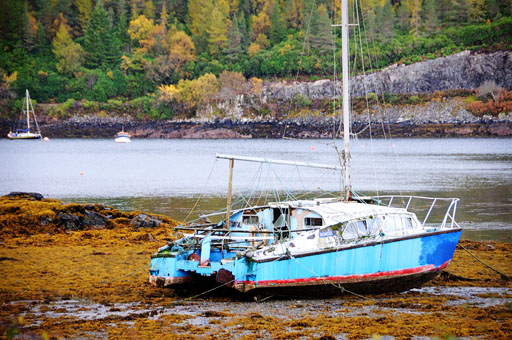 We saw moss everywhere.  Beautiful, soft, plush, green moss.  I have a whole folder of moss pictures on my hard drive.
Looking back in my archives, I didn't really blog very much about the trip, except for the visit with Mr. and Mrs. Life, meeting Ms. Locket, and our fun little highland encounter with Bin Laden.  And by then, I figured you were sick of hearing about the trip.
So, thank you for indulging me while I wistfully look back — hoping to return to Scotland soon.
Oh wait– here's a picture just in time for Halloween.
Ok, one more parting shot — black kitties for Halloween.  They're the Life kitties, Sirius and Cassie.  Very sweet — and I miss them.  I hope you're giving them a steady diet of prawns and yarn, Isabelle!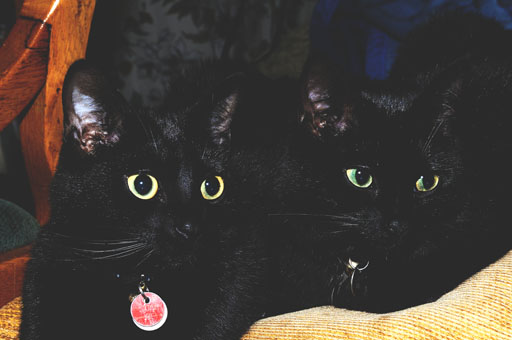 And thanks for your funny post and reminding me of our wonderful trip.  As for the rest of you, I hope you have a great weekend!
XOXO,
Anna
49 Comments
Sorry, the comment form is closed at this time.
Thanks for stopping by!