October 19, 2009 on 8:38 pm | In
Recipes
|
51 Comments
…for I have sinned.  Is that what you're supposed to say when you've been naughty?  It wasn't my fault.  I swear.  I saw these cute little cupcake pedestals somewhere and thought "Hmmmm, I could put those to good use."  Then I promptly forgot about them.  And pretty soon, Ms. Barefoot posted about them.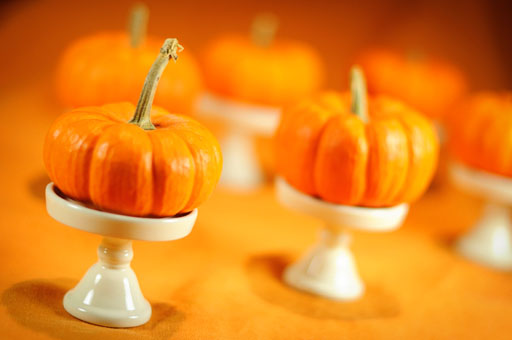 Good Grief, indeed. When they popped up in that second post, I took it as a sign. Permission granted, it was meant to be, and I obediently clicked over and ordered them. If you love dishes or cupcakes or white, good luck resisting. You're welcome. ;-)
While we're chit-chatting about things you need, have you seen this adorable owl pattern? And fabric??? Ohmygosh…I love that ric rac, those colors, and everything about this cute pattern — and it's free!
So.  Did you all have a good weekend?  I actually got my 9-patch quilt top all put together — as soon as I get it quilted I'll show you.  Don't hold your breath though — I'm terribly slow compared to so many of you at these things.  Other than sewing, we continued to reminisce about our trip to Scotland and since it was a chilly weekend, I made Bangers and Mash.  I'd never even heard of Bangers and Mash until our first trip to Scotland, but as soon as we got home I searched all over the internet for a recipe.  I found several, but they didn't sound exactly like the version we'd had, so I put several together.  (Some of the recipes called for diced tomatoes — are tomatoes common in bangers and mash?)  Anyway, since I had to search high and low for my recipe, I'm adding it here, on my little blog, so it won't be lost anymore.  With apologies to you vegetarians, mashed potato haters, and people who think sausages are disgusting, here's my version:
Bangers and Mash
1 large onion, sliced into thin rings
Several garlic cloves, roughly chopped into small chunks
Mixed herbs: 1/2 – 1 tsp each of thyme, marjoram and rosemary
6 – 8 sausages
1 14.5 oz can beef broth
1 cup of red wine
1 T demi-glace (optional)
Olive Oil
Chopped parsley for garnishing
Mashed potatoes made to your own taste
Slowly cook the onion rings on lowest heat in olive oil until they are soft. This will take about 20 minutes. Remove onions from pan and add the sausages.
Brown them all over. Remove the sausages from the pan and add the garlic, herbs, beef broth and wine. I like to add the demi-glace if you have it — it gives the gravy a richer flavor. Stir the gravy ingredients all together, then add the onions and sausages back to the pan.
Simmer on a low heat, partially covered, for 45 minutes to an hour while the wine reduces and the onions turn a deep red color. At the end, if the gravy needs to be thickened, I mix a tablespoon of cornstarch with just a bit of water and then add that to the gravy. Cook and stir a few minutes longer until gravy thickens up.
Serve sausages on top of mashed potatoes, covered with onions and gravy. Garnish with parsley.  Yu – u – um!
Now, go forth and have a great week!
XOXO,
Anna
51 Comments
Sorry, the comment form is closed at this time.
Thanks for stopping by!