October 22, 2009 on 9:08 pm | In
Chat
,
Quilting
|
65 Comments
Otherwise titled, three random items:
One.
Fall is definitely here in ThimbleannaLand.  Although we didn't really have much of a summer this year, it seems as though we've jumped from warm weather, right into the chilly stuff.  We're in for several days of drizzly, rainy days.  That means the start of yummy oatmeal breakfasts.  And it's October, so forget the raisins and bring on the candy corn!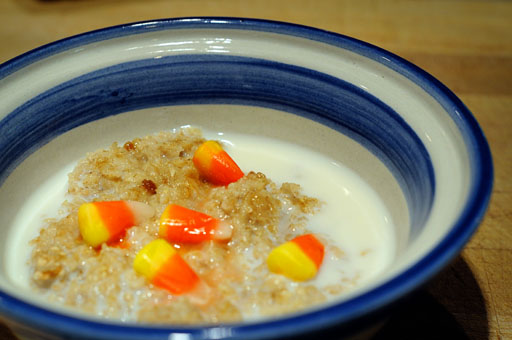 Two.
If you've been a reader very long, you know how much I love a good prank.  I love to laugh and make merry — I feel that Laughter truly IS the best medicine.  Are you all familiar with Improv Everywhere?  These are the people who were responsible for the prank in Grand Central Station where a bunch of people just froze in place.  And the prank that I recently referred to, where they took subway yearbook photos on a NYC Subway train.  They have a new prank that I watched, grinning from ear to ear, wishing it would happen in my local grocery store.  And a really fun video on their website is a Today Show Interview that occurred this summer.  I love this stuff (and there's tons more on their website) — everyone needs a good pick me up now and then!
Three.
When I showed you my Jumbo Applecore Quilt, I meant to show you my quilt frame, but after three applecore posts, I decided to take a little quilty break.
I love my quilt frame.  It's not the new sexy kind that tilts and has three rods, but it's great for setting up a quilt for hand quilting.  Several years ago, MeMum, BigDaddy, TheManoftheHouse and I went to an auction.  I could only go to the preview, and I was so surprised to see this quilt frame among the household goods.  After close inspection, I had to leave for an appointment and I left TheManoftheHouse with instructions to bid on it.  "But don't pay more than $40 or $50."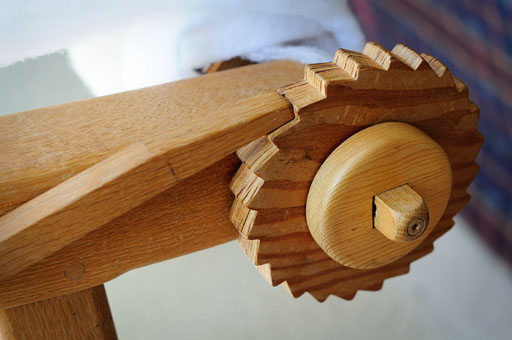 Knowing what auction items will sell for is always tricky business.  I was just sure someone else would walk off with this frame and the bidding would be fierce.   It's solid oak (it's very heavy) and is beautifully handcrafted.  I could just imagine some woodworking husband lovingly making this for his quilting wife.
Look at the pretty details!  All the pieces are held together with pegs and it's really sturdy.  Imagine my surprise when I arrived home at the end of the day to find TheManoftheHouse waiting with the quilt frame.  I was beside myself with excitement and afraid to ask how much it cost!  The auctioneer tried to start bidding in the hundreds of dollars and he slowly came down to $20, where TheManoftheHouse decided to jump in.  "Twentygimmetwentyfivegarbledstuffnoonecanunderstandtwentyfivewhatsmybidmoregarbled
stufftwentytwentyfivec'monwhat'swrongwithyoupeopleTwentygimmetwentyfive". Silence. No. Other. Bidders.  So, TheManoftheHouse scored this beautiful quilt frame for the paltry sum of $20.  The oak alone is worth so much more than $20.  Auctions always make me a little sad for the families that must sell the goods, but I was so happy to give this quilt frame a good home!
The only down side to the quilt frame is this:
It doesn't fall over on its own.  When I'm not quilting on it, I have to tip it on its side — the resident felines seem to think it's a giant kitty hammock.  Bad Kitties!
If you're still here, thanks for sticking with this week's random.  I hope you all have a wonderful weekend!
XOXO,
Anna
65 Comments
Sorry, the comment form is closed at this time.
Thanks for stopping by!