November 24, 2009 on 8:23 am | In
Around the House
|
30 Comments
Well?  How was the weekend?  It would have been better to ask you that on Monday…and I would have, but I couldn't post yesterday.  Uploading problems somewhere along the line…Grrrrr.  Anyway, we celebrated the tenth anniversary of moving into this house by cleaning our clothes closet and living to tell about it.  It was a close call though, we almost succumbed to dust inhalation.  Whew – it was bad in there!  The closet is breathing a big sigh of relief now and I counteracted the dust effects by spending a whole day outside in our beautiful fall weather.  One last day of yard cleanup with the other man in my life, John Deere.  John, Dear.
John and I go back 22 years and he's getting tired, but he squeaked through another year without complaining too much.  It was a perfect fall day so I thought I'd wave at you with a modified Wilson.  Don't you think I look hot with my hearing protection?   (I'm channeling my inner robot.)  They're a new accessory this year — I should have been wearing them all these years of mowing — John has a little trouble with volume control.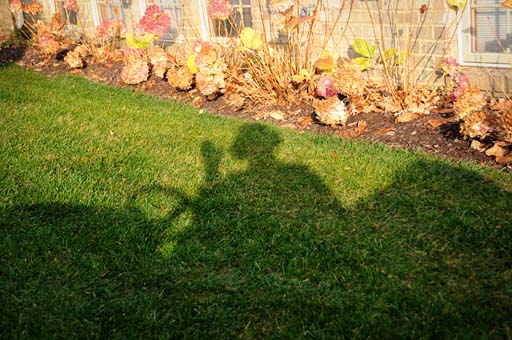 I'm pretending the hydrangea stalks are my antennae.  All the leaves are gone from the hydrangeas now, but the gorgeous pink flowers are still there.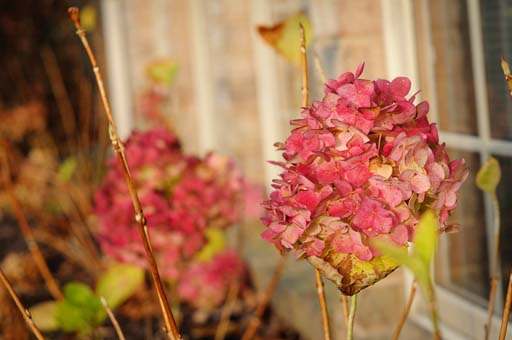 So, this concludes another season of yard work.  It was one of the best that I can remember — our summer was just perfect — cool and just the right amount of rain.  And our fall weekends have been just the right weather combo too, so that the final clean up wasn't with snow.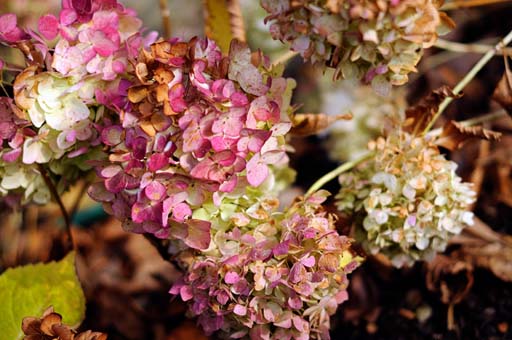 Potential snow flurries are in our forecast by week's end and I'm looking forward to the new season of extra time to work on inside projects.  As soon as the outside work was over, I started one — a little red for Christmas, which is screaming at me everywhere I turn.  (Man, I wish retailers would cut us some slack and let us enjoy our seasons!)
Anyway, I'll be spending my week prepping for Thanksgiving and sneaking in a little crochet here and there.   I hope you all have a fun week planned too!
XOXO,
Anna
30 Comments
Sorry, the comment form is closed at this time.
Thanks for stopping by!