January 24, 2010 on 10:21 pm | In
Knitting
|
54 Comments
A month ago, I read this post over at Karen's and saw the prettiest cable socks ever! I commented and asked Karen if the pattern was available on Ravelry. Not yet, she said — it's her own pattern and would I like to test it for her?   Would I???  I jumped at the chance, as I'm a BIG fan of cables.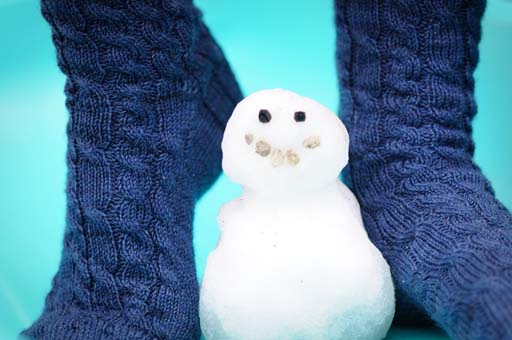 So, I set about test knitting and had the best time. I had big plans to be able to take the sock pictures in our pretty snow, but it's been raining here and the snow is almost all gone. I was able to muster up enough for a little bitty snowman. With a little bitty hydrangea hat.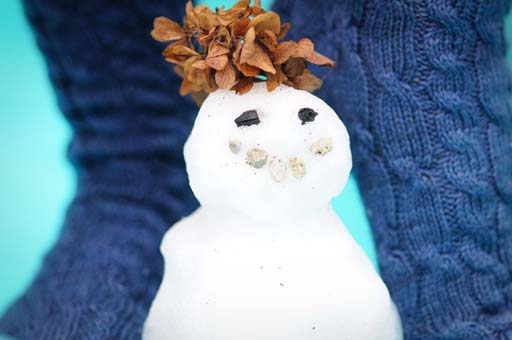 But I digress — we're talking socks here! Karen's pattern is beautifully written. It has several pictures (her socks are a much prettier blue than mine) and she writes the instructions for the cables three different ways — row-by-row, on a graph, and formula-like — so no matter what kind of "learner" you are, she has you covered.
The yarn I used is a Lorna's Laces Shepherd Sock hand-dyed yarn in Cookies' Deep Dark Secret colorway. I wanted a plain yarn so the cables would really stand out.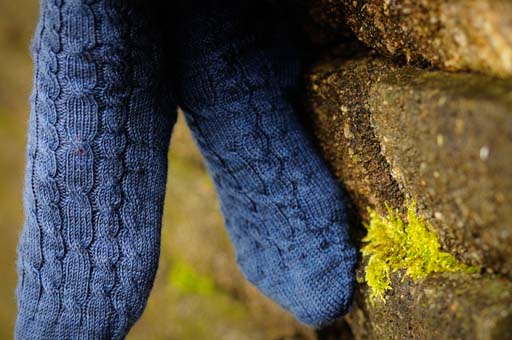 Thanks to MyDadLovesMeBestSister for being the sock model.  We were taking pictures on top of this wall, then decided to hang her feet over the wall.  When we did that, Mr. Snowman yelled "Wait for Me!" and jumped over the side.  He managed to cling to the edge for approximately 7.3 seconds.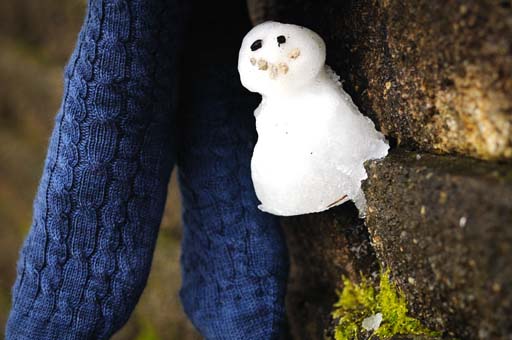 Poor little guy — he's all melted now. But, the cables are still around and if you love them like I do, you can get Karen's pattern here, on Ravelry. (And in case you're wondering, I don't get a bonus or anything — I just think these socks are darn cute!)
Oh, and I have one more teeny little recommendation for you. The Young Victoria. We saw it this afternoon and I loved it. It made me cry. Did I tell you, I loved it?
XOXO,
Anna
54 Comments
Sorry, the comment form is closed at this time.
Thanks for stopping by!