Yipee! It's Friday! And as promised I'm back with some ugliness. I finished a pair of socks early in the week and I'm SO disappointed with the result.
I used the Snake Skin Sock pattern that I've used before (I love it in the red!) and the yarn is called Happy Feet by Plymouth Yarn Company.  The colors had so much promise — a pretty aqua and yellow with a blue-ish red and gray-ish blue (which is apparently where it all went wrong).
But when knit together they became one big muddy mess.  Sort of a purple-ish looking thing.  Not. A. Fan.  I tried everything to make them look prettier.  Posing with a pumpkin.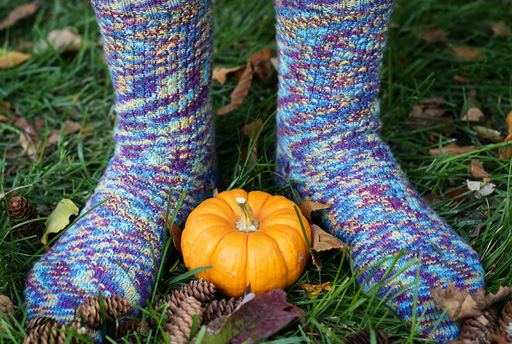 Even with a matching zinnia — one of the few I had this year.  But it's a No. Go.  Yuck.  I don't like them Sam I am.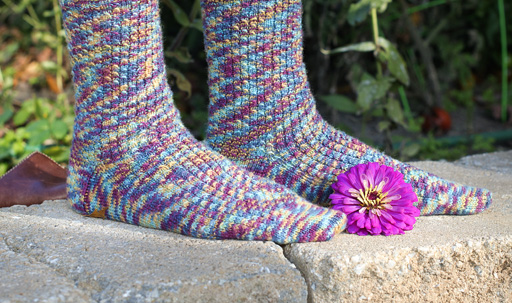 They're so ugly though, that the skeletons seem to love them.  The skeletons are begging me to let them take the Ugly Socks to storage with them until next Halloween.  Apparently it gets cold in that box in the attic.
It might be a good solution — then I won't have to look at them!
Well, Happy November! I hope you're getting rested up 'cause you KNOW what's just around the bend!
XOXO,
Anna