I'm still working hard on my Trip Around the World.  This is my baby through round 24.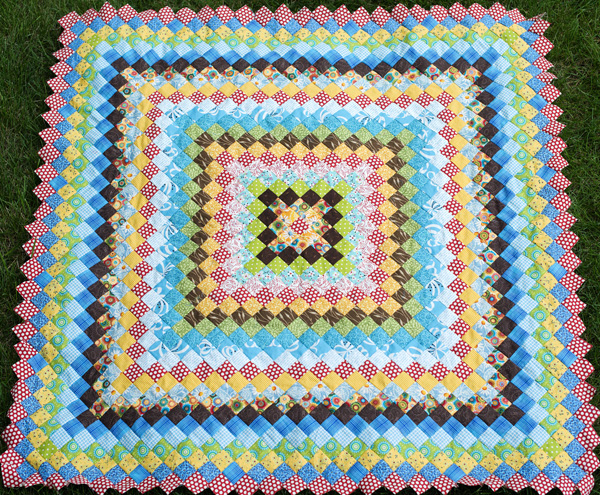 Amazingly, I'm still on schedule.  The assignment for this month was rounds 19 through 24.  The instructions were to a) use our exchange fabric, b) have at least one row be a "make-do" row (i.e., play like our pioneer grandmothers who would have run out of some prints and had to improvise in some of the rounds by using more than one fabric), and c) use the red dot in another round.  I used my red dot in round 24, my exchange fabric in round 22, and rounds 21 and 23 were make-do rounds.  Round 21 was a true make-do round — I was four squares short of that green spotty fabric, so I placed a the green polka dot from round 4 in the corners of round 21.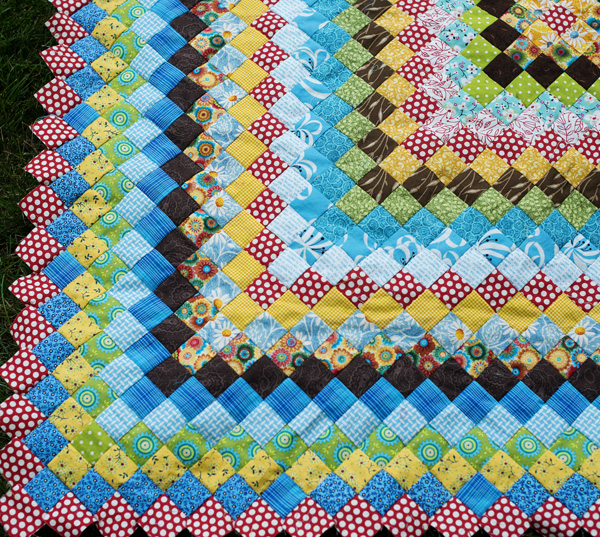 I'm thinking I want my quilt to be at least a double and maybe a bit bigger.  I calculated how much more work would be needed if I went to 44 rounds (which would make the quilt 88″ x 88″).  I'll only need 20 more rounds, but surprisingly, in terms of actual little squares of fabric, I'm not even half-way yet.  The half-way point will occur somewhere around row 29 or 30.  Yikes!   I've been at this for 2 1/2 months now, so if I could hold to the current pace, I'm guessing it would take me another 3 – 3 1/2 months to finish.  I don't see that happening though — fall is always a busy time around here and the big winter event will soon be just around the corner.  So, I'll keep plodding along (although, I'm thinking a lot more time will be spent in choosing fabrics and colors — it's getting harder and harder!) and not be disappointed if this project doesn't wrap up until after Christmas sometime.
I wanted to show you something fun (at least to me LOL) — remember in the Becky Goldsmith post where I mentioned that I'd dipped into the 70′s stash for one of the fabrics?  That fabric is the little blue floral in round 23.  I've placed my TAW on top of a quilt that MeMum made in the early 80′s using that same blue fabric.  She uses her quilt every day and I'm amazed at how well the blue in the fabric has held up.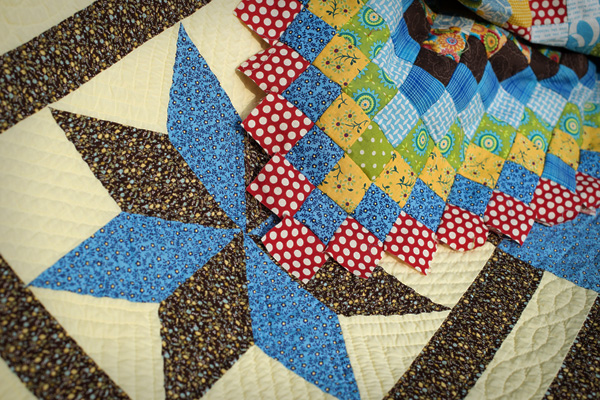 When TheFirstChild was about 6 months old, I told MeMum that I wanted to learn how to hand quilt.  She sent me this LeMoyne Star quilt that she'd pieced so that I could figure it out.  I quilted one block in the center (there are 12 blocks in the quilt) and realized that TheFirstChild would be an adult before I finished the quilting.  Since we wanted it to be done in a more reasonable amount of time, we sent if off to a quilter.  It was a good decision and it's fun to look at the quilting and figure out which block is mine — you can definitely tell.
Life is a little slower now without a baby, and I'm really enjoying all of this handwork. If you missed the first Trip Around the World Challenge, Brigitte has started another one. I'd tell you how to find it, but facebook and I hate each other* and I can't figure it out. You could probably start by going to Brigitte Giblin's homepage (don't blame me if that's not her homepage … see previous comment about me and facebook) and poking around. (Good Luck LOL!)
Have a great week!
XOXO,
Anna
*Case in point: I think it's ridiculous that every time you "like" something on facebook, it gets splashed all over for everyone to see. Can't a girl have a little privacy and support her friends? The only way I've found to keep that from happening is to block your friends. That's just Stooooopid. (I'm done with my rant now haha.)