I've finally finished my little tumbler quilt. I thought it would be a much quicker project than it turned out to be.
I've always loved the tumbler pattern and thought it would be a good quilt for a quick baby gift or something. Now that I've made one, I know I won't make another one for a "casual aquaintance" gift unless the tumblers are larger.
Anyway, this was a fun project. This was a kit that I picked up at a quilt show several years ago and I'm happy that this little kit is no longer nagging me from the shelf it used to sit upon.
The big pine trees in our backyard played the role of quilt holder this time.  It was a little windy when I took the pictures this morning, so I didn't stay out in the cold for long.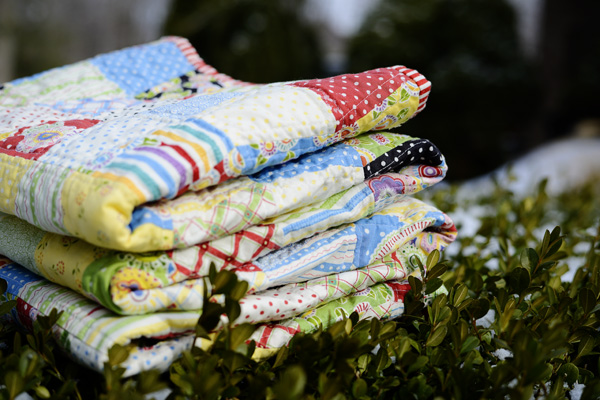 Now to pick a new project. There are so many possibilities and I always have a hard time deciding. That's how I eneded up doing this tumbler quilt — I have several long-term quilt ideas and I was avoiding making a decision!
XOXO,
Anna