1. Boy, oh Boy, Old Man Winter is on a Bender this year isn't he? And I. Love. It. We've had our snowiest January ever and, with the exception of the first few days of the month, there was snow on the ground all month. SO much better than our usual January pattern of snow, melt, mud, rain, mud, snow, ice, melt, mud, mud, mud, dreary, dreary, dreary. We've survived two arctic vortexes (vortexi, vortii, just what is the plural of vortex?), so that was fun too. It was -15F on the Tuesday morning drive to work and by Thursday morning it was 15F. What a difference 30 degrees makes — I almost felt like I could leave my coat at home!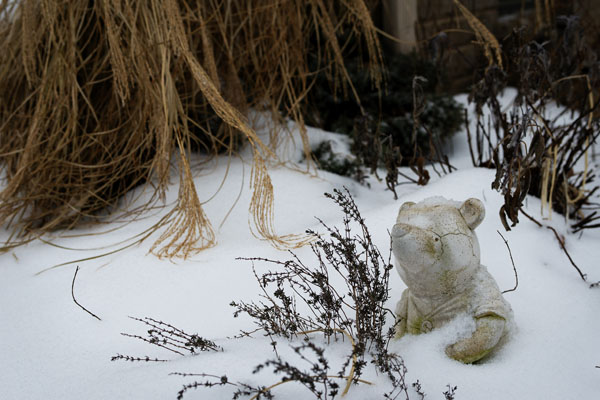 And now, in blows February, determined to ruin my fun. It's raining out there, as we speak. Boo. Hiss. February, my least favorite month. Someone, somewhere along the way tried to cheer it up with all that Luuuv holiday stuff, but it's just not working. Thankfully, February knows it's limits and is a short month. I know many of you don't like winter, so take heart — the days are getting longer and there are more fun days behind us than in front of us.
2. Knit. Knit. Knit. That's all I've wanted to do this winter. Look! I made some pockets. I spent the first three weeks of January knitting away on the front and back of a sweater (which was really a front and a half after I had to rip it out several times) and then I could see that I would run short of yarn for the sleeves, so I stopped knitting for a bit. More yarn just arrived this week, so now I'm working away on the sleeves. I like to knit my sleeves and socks two at a time so I can be sure they will match, but somehow I've managed to get an extra row of increases in one of the sleeves. I blame it on knitting and making dinner at the same time. Mistakes. Always, humbling, mistakes.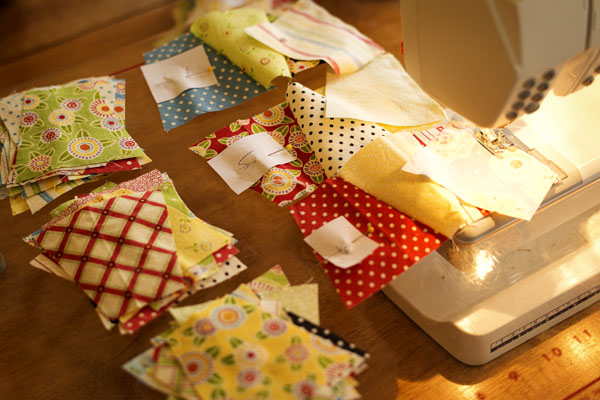 3.  Don't worry quilters, there's still a bit of sewing going on around here.  I've been working on the tumblers, but just like the knitting, there have been set-backs.  One day I spent a few hours on the floor laying all the tumblers out in rows.  When I was almost finished, I stood up, only to find another 70 tumblers still up on the counter, which totally messed up my layout.  It's easy to get them out of order when I'm sewing them together too.  Maybe all these mistakes are because I'm so excited that we've finally had a real winter and I can't concentrate on anything else.  Yeah, that's it.
4.I've had several very happy mail days this winter and I've been remiss in acknowledging them. Just the other day, I got a very unexpected little package from Anne. She included a sweet notebook, sheepie goodness in the form of one of her photo cards and an adorable bag with a ring to gather it closed, a piece of tartan, and a cute little scissors fob — all neatly wrapped up in the prettiest ribbon.  Her note said it was a Random Act of Kindness.  Isn't that just the nicest thing?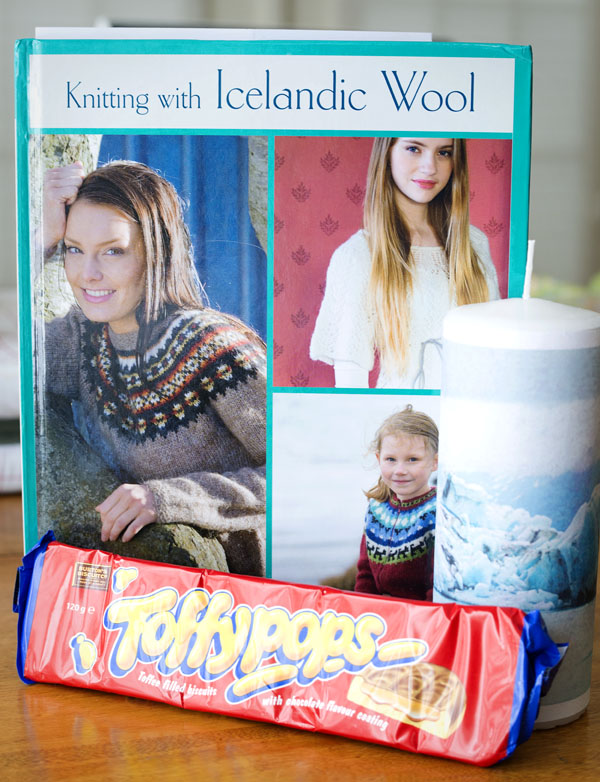 Right before we went to visit TheFirstChild and SweetiePie, a fun package arrived from Berglind.  The knitting book is fabulous — there are several patterns in it that I want to make.  My next sweater pattern is in this book and the yarn has already been ordered.  Berglind also included a pretty candle (which she wrapped with a picture that I took when we were in Iceland — what a fun surprise!)  And, some Toffypops!  There were a LOT more boxes of Toffypops but SweetiePie and I ate them — we LOVE Toffypops.  I'm hoarding that last little package for my Icelandic knitting.  (And, oh shoot, I've just realized that I forgot to include the neatest little ring that she included to help control my yarn when I'm doing two-color work.  I've already put it away in my knitting bag, but I'm looking forward to using it on my next sweater!)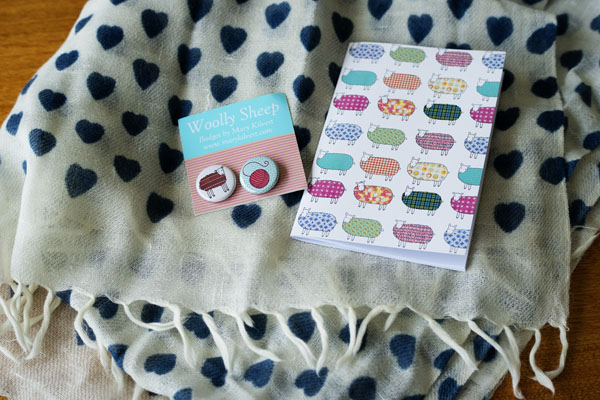 And last, but definitely not least was a wonderful package from Isabelle.  Isabelle and I share a love of the color blue and she sent me a beautiful blue scarf.  Isn't it pretty?  And, she, like Anne, knows of my sheepie love (they're so lucky to see sheep all the time in Scotland!) so she also included several sheepie accessories.
THANK YOU THANK YOU ladies — I feel so lucky to have met you all through this little blogging adventure — you're all so sweet and thoughtful and in Wayne's famous words "I'm not worthy!"
5. Leslie linked to an interesting article about the link between knitting and yoga.  I don't necessarily agree with everything, but it's an interesting read.  If you're a knitter, you might want to try yoga.  And if you're a yogi, you might want to try knitting.  (I'm talking to YOU SweetiePie and MyDadLovesMeBestSister!!!)
Have a good weekend!
XOXO,
Anna