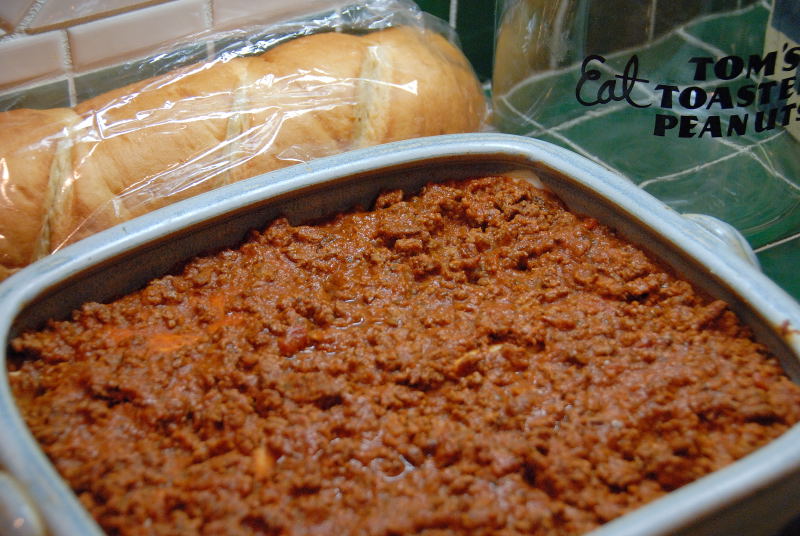 Lazy Day Overnight Lasagne
1 lb. mild Italian sausage or ground beef
32 oz. jar prepared spaghetti sauce
1 cup water
15 oz. carton ricotta cheese
2 tablespoons chopped fresh chives
1/2 teaspoon oregano leaves
1 egg
8 oz. uncooked lasagne noodles
16 oz. pkg. sliced mozzarella cheese
2 tablespoons grated Parmesan cheese
In large skillet, brown sausage; drain well. Add spaghetti sauce and water; blend well. Simmer 5 minutes. In medium bowl, combine ricotta cheese, chives, oregano and egg; mix well. In bottom of ungreased 13x9-inch (3 quart) baking dish or lasagne pan, spread 1 1/2 cups of meat sauce; top with 1/2 of the noodles, 1/2 of the ricotta sheese mixture and 1/2 of the mozzarella cheese. Repeat with remaining noodles, ricotta cheese mixture and mozzarella cheese; top with remaining meat sauce. Sprinkle with Parmesan cheese. (I like to sprinkle with a mixture of Parmesan and mozzarella cheese.) Cover and refrigerate overnight.
Heat oven to 350 degrees. Uncover baking dish. Bake 50 to 60 minutes or until noodles are tender and casserole is bubbly. Let stand 15 minutes before serving. 10 - 12 servings.
Blogged about here.
Note: Please excuse the awful lasagne picture. I'll try and get a better picture with all the cheesy goodness if I can make this recipe again and remember to put it in the refrigerator!